Enterprise: TruePush
Founders: Ravi Vaka, Manoj Surya
Industry: Marketing, Advertising & PR
Year it was founded: 2018
Based out of: Hyderabad, Telangana


The plethora of apps and websites come with the challenge of capturing users' attention. One such means of engaging with users is via push notifications that are automated messages sent by an application to users when the application is not open. Ravi Vaka and Manoj Surya saw an opportunity in this re-engagement space when they met at a Startup Leadership Program. They have since then established TruePush as a free for life push notifications service.


In conversation with GlobalLinker (GL), Ravi tell us more about their unique business idea.


GL: Ravi, how did you and Manoj decide to partner and start TruePush?


Ravi: Manoj and I met during a Startup Leadership Program. We both felt that there is so much to be done around the area of re-engagement. Also, despite substantial players in this area, we thought there is no one who is giving a competent product free for life.


TruePush is a free forever push notification company for both websites and mobile applications. Over a period of 100 days, TruePush captured 2100+ clients and we are acquiring customers exponentially. Bloggers, marketers, app owners and developers from varied industries including media houses and e-commerce websites are sending millions of notifications every day. We have advanced features like Segmentation (pre-defined and custom segments), Triggers and Templates that make it a user-friendly tool. All this free of cost with no hidden charges. Similar features may otherwise cost anyone up to USD 1200 annually.
GL: You started TruePush last year and have already found considerable success. What has been the most effective way of raising awareness about your business?


Ravi: We as a product raise awareness by positing TruePush on different platforms, like Quora, Stackoverflow, Facebook etc. E-discovery platforms G2C, Producthunt, Capterra were also quite helpful. On page and off page SEO helped us bringing organic traffic onto our website.


Over a period of 100 days, Truepush captured 2100+ clients and we are acquiring customers exponentially.
Also read: Raj N Phani, Founder, Zaggle Prepaid Ocean Services Pvt Ltd
GL: As a startup, what has been your secret to fast growth?


Ravi: We are late entrants in the market, and therefore to tackle this challenge, we made a competent product and provide it free forever. In just six months since inception, we made a product with premium functions and we are adopted by 2100 + customers across the globe.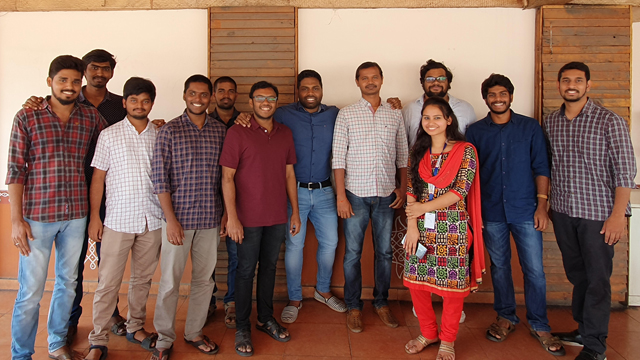 Ravi & Manoj with their team

GL: You are a Linker. Which offerings of GlobalLinker have helped you?


Ravi: GlobalLinker is helping us spreading the word about the good work we've been doing for different SMEs who are part of this community.
GL: What advice would you give to a new entrepreneur just starting out?


Ravi: Never compromise on quality while aiming for scale. A performing product is more important than faster user acquisition.


Also read: Yosha Gupta, Founder, Memeraki
GL: What is the next big thing on your business agenda?


Ravi: We are on our way to becoming one of the most preferred Push Notifications tool in the market. Our product should be able to send 1 billion notifications a day through our clients.


GL: We would love to know the person behind the entrepreneur.


Every day you wake up at - I close the day at 10.30 PM and wake up at 4.30 AM.
The first thing you do when you wake up - Check our internal dashboard/ emails to check if there are any signups.
Three things you do to unwind/ relax - We often have times where signups don't come, so we unwind by going for long walks near office, go for a chai break together. Workouts every day are a must or a good game of badminton or cricket as an alternative.
When you face a big challenge - I break it down into smaller challenges and work on each. Also, never panic.
The best piece of advice you've ever been given - Fail faster, succeed sooner
The one book everyone should read - 48 Laws of Power by Robert Greene
Also read: Anu Acharya & Subash Lingareddy, Founders, Mapmygenome India
Network with SMEs mentioned in this article by clicking on the 'Connect' button on their profile. Ravi Vaka, Manoj Surya

Disclaimer: This article is based solely on the inputs shared by the featured members. GlobalLinker does not necessarily endorse the views, opinions & facts stated by the members.