Enterprise: Memeraki
CEO & Founder: Yosha Gupta
Industry: Fashion & Fashion Accessories
Year it was founded: 2016
Based out of: Gurgaon & Hong Kong


'Meraki' is a Greek word meaning doing things with love, passion and soul and this perfectly describes Yosha Gupta's entrepreneurial venture. With a keen interest in indigenous art, Yosha came up with the novel idea of creating bespoke hand painted bags, clutches and accessories. Her brand, 'Memeraki' makes folk art accessible, fashionable and celebrates traditional artists.


In conversation with GlobalLinker (GL), Yosha shares her passion for entrepreneurship and how she combines her love for art and business with flair.
GL: Yosha, you have worked in the corporate world including the World Bank. What motivated you to be an entrepreneur?
Yosha: My family is full of entrepreneurs. My father started a new business at the age of 60 and worked very hard to make a success of it and I couldn't be more proud of him. My brother is a very successful entrepreneur and has always pushed and inspired me. My aunt in Aligarh was one of the first female doctors to run her own practice and started the biggest hospital in Aligarh, at a time when working women were frowned upon. My great grandfather started Aligarh's biggest girl's college, Tikaram College where 12,000 girls study every year. The itch to be an entrepreneur and values of hard work and resilience are ingrained deep in me because of each one of them. My last startup was venture funded but I had to shut it down as things didn't work out, so I have learnt a lot from that failure as well.
Also read: Hooma Roy Choudhury, Founder, Travel Jaunts
GL: How did you develop such a strong interest in indigenous folk art?


Yosha: Art has always been a very big part of my life whether it be performing arts, fine arts or the folk arts. I have been organising Indian classical events in Hong Kong for the last 8 years that I have been living there as part of a volunteer organisation which has been attended by thousands of art aficionados. Through this I developed a long standing connect with all the artists. In fact, I love folk arts so much that everything right from my clothes, jewellery, my own bags, the furniture in our house are all hand-painted by Indian folk artists. Over the last couple of years, a lot of people started asking me where they could get bags like mine from. What especially made a huge statement was when I got a Gucci handbag hand painted by our Madhubani artist Ranjeet Jha; everyone just loved it and it was obvious that there's a market for this. The rest then followed, and the business took a life of its own.


Our patrons and customers have been our biggest evangelists and helped raise the most awareness for our work to start with.
GL: Memeraki is all about putting the spotlight on artists. Tell us a little about this aspect of your business.


Yosha: Folk art has been practised for generations in families and these artists are masters of their craft. Folk art used to be a beautiful immersive experience incorporating music, dance and storytelling along with the art. Sadly these arts are now dying for the lack of people knowing about them and for us our artists are the heroes of our brand and hence our effort to shine the spotlight on them. From telling their story and writing about them to working closely with them and giving them design inputs and training them, everything about our work is about our artists and we want the world to experience the beautiful art and stories from our artists.


GL: What has been the most effective way of raising awareness about your business?

Yosha: Our patrons and customers have been our biggest evangelists and helped raise the most awareness for our work to start with. Now that we are scaling up, social media channels like Instagram and Facebook have also been effective. We have also been lucky to get a lot of media coverage like Forbes, SCMP, Tatler, Indian Express and more and that has also helped to reach out to more people and create awareness.
GL: What are some of the significant milestones in your business journey?

Yosha: Selling our first collection of 40 bags within weeks, launching our website, successfully completing our crowdfunding campaign, hiring our first team member, reaching across 100 artists, getting covered across magazines and newspapers, our folk art map of India going viral on social media, some Bollywood stars posting about our products on social media – all of these have been amazing milestones.
Also read: Dipankar Ghosh, Director, Disrupvation Digital Pvt Ltd
GL: What are challenges for your business to grow bigger, better and faster from here?

Yosha: The challenges are the same for businesses—scaling up, marketing, maintaining product quality, launching new products quickly enough. Tackling them is a combination of hiring and working with the right people, creating milestones and religiously tracking against those milestones.
GL: What is your leadership style?


Yosha: Leading by example; I am a doer - whatever needs to be done, I am the first one to step into the fray of things no matter how big or small it is.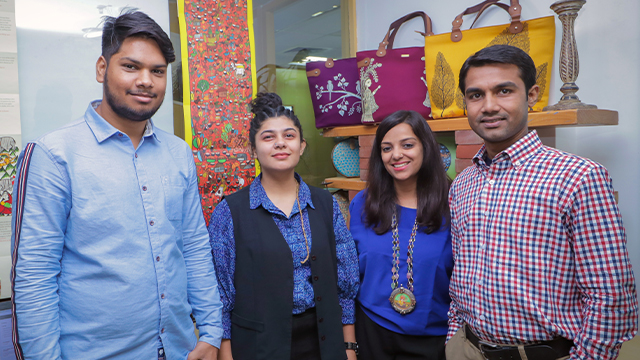 Yosha with some of her team members
GL: You are a Linker. Which offerings of GlobalLinker have helped you?

Yosha: I love the networking opportunities that GlobalLinker offers for small businesses to find other businesses to collaborate with. Also, the support that GlobalLinker offers in terms of digital like helping to launch e-commerce stores for brands as well as helping with our marketing and storytelling – all of that is invaluable.


GL: What specific advice would you have for young women who would like to become entrepreneurs?


Yosha: There's nothing better than creating lasting value – that magical feeling to be able to create 'something' from 'nothing', with integrity, passion and resilience and with the ability to mobilise many to come on this journey, is the most rewarding aspect of being an entrepreneur.


Specifically, for women entrepreneurs, having a strong network of other women can be very beneficial
GL: What is the next big thing on your business agenda?


Yosha: Scaling the business, working with more artists and taking Indian art to many more markets across the world is on the agenda for this year.


GL: We would love to know the person behind the entrepreneur.


Every day you wake up at - 07:00 a.m.
The first thing you do when you wake up - I need many cups of tea!
Three things you do to unwind/ relax are - Working on Memeraki itself is relaxing for me, it honestly doesn't feel like work as it's what I love doing; what can be more relaxing than being surrounded by art. Spending time with family and my dog, music and reading are my other big ways of unwinding.
When you face a big challenge – I never think of any challenge as too big; I break it down into smaller parts, prioritise and get going with what can be done to address that challenge.
The best piece of advice you've ever been given – 'My timeline is my own' -surprisingly enough during a Cosmology lecture I was attending by Brian Cox in a room full of thousands of people, he said this and it was so profound that I've not forgotten it.
The one book everyone should read - I read a lot so I'll talk about the book I am currently reading, The Culture Code; great nuggets of advice on building world changing teams.

Also read: Rakhi Saaboo, Director, Anil International

Network with Yosha Gupta by clicking on the 'Connect' button on her profile.

Disclaimer: This article is based solely on the inputs shared by the featured member. GlobalLinker does not necessarily endorse the views, opinions & facts stated by the member.