In his recently published book Brands and the Brain, Professor Arvind Sahay who teaches Marketing and International Business at IIM Ahmedabad writes that human brains are designed to mirror, to conform socially with others, to interact with people, machines animals and brands. We tend to do what others are doing. We imitate and copy. Imitation makes us feel secure. It is one of the bases of influencer marketing. Powerful brands create their own reinforcing cycle. Imitating a key influencer whom we like and buying the same brand that the influencer uses or endorses makes us feel a part of the collective.
Who is an influencer?
To fully appreciate what influencer marketing is all about, it would be worthwhile understanding the meaning of an influencer. An influencer is someone who has:
The power to affect the purchasing decisions of others because of his or her authority, knowledge, position, or relationship with his or her audience
A following in a distinct niche, with whom he or she actively engages. The size of the following depends on the size of his/her topic of the niche.
Power of personality
Influencer Marketing is a hybrid of old and new marketing tools. It takes the idea of celebrity endorsement and places it into a modern-day content-driven marketing campaign.


But influencer marketing doesn't just involve celebrities. It revolves around people who exert a considerable influence. Many of the influencers would never consider themselves famous in an offline setting. In fact, you would not recognise photographer Viral Bhayani (9.4 million followers on social media) or the much in demand cultural icon and stylist Mohit Rai (157K followers) at a party.
Influencer Marketing is a hybrid of old and new marketing tools. It takes the idea of celebrity endorsement and places it into a modern-day content-driven marketing campaign.
Retail has used the glamour route for brand building. This is especially true for jewellery retail, which has been a big spender on celebrity endorsements with many national and regional chains having signed up film stars as brand ambassadors. This is effective if the ambassador's personality resonates with the brand.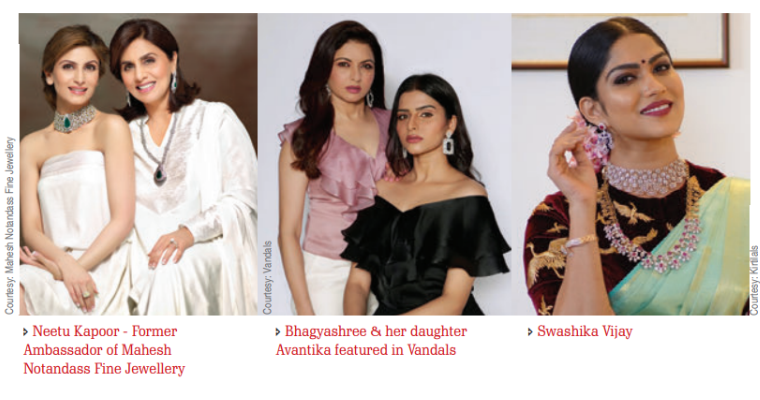 Making the right choice
Dr. Sandeep Goyal, the Managing Director of Rediffusion Advertising and Chief mentor at Indian Institute of Human Brands (IIHB) shared the brand attributes that need to be considered while making the final selection of a celebrity. IIHB allots a TIARA score to each celebrity. In the acronym -
T stands for Trust: Is the celebrity trustworthy?
I for Identity: Do your customers identify with the celebrity?
A for Attractive: Is the celebrity attractive to your present and potential customers?
R for Respect: Is the celebrity respected by your core audience?
A for Appeal: Does he or she appeal to them?
The TIARA scores help a brand choose the right celebrity. The brand has to use the attributes a celebrity represents to its advantage. This can be done by intelligent messaging. The content then needs to be backed with adequate media weight to ensure that the message reaches a wide audience. Money and might ensure visibility.
Dr. Goyal gives the example of Kalyan Jewellers who chose veteran actor Amitabh Bachchan (AB) as its brand ambassador. "AB scores highly on the Trustworthy and Respect factors. They have the right choice of an ambassador and their messaging is backed by a multi media campaign," he said.
Gaurav Singh Kushwaha, Founder and CEO Bluestone Jewellery agreed. "We signed up Alia Bhatt in 2017 as she was a perfect fit for Bluestone. Her posters and backdrops at our shop-in-shop outlets generated good visibility, trials and trade interest," he explained.
"India is a star crazy nation and the presence of a film star at a retail store opening or a collection launch generates media interest. We have observed that whenever a film star launches a new collection, the attendance of media persons goes up by at least 40%. This ensures a wide coverage of our event," said Suraj Shantakumar Director-Business Strategy at Kirtilals, which is a jewellery store chain predominantly present in South India. The brand collaborates with influencers mostly when launching a new collection or during specific in-store events. It has worked with prominent influencers with a large social media following such as Pavitra Lakshmi, Priya Bhavani Shankar, Megha Siddarth, Swasikavj and Sanchitha Shetty.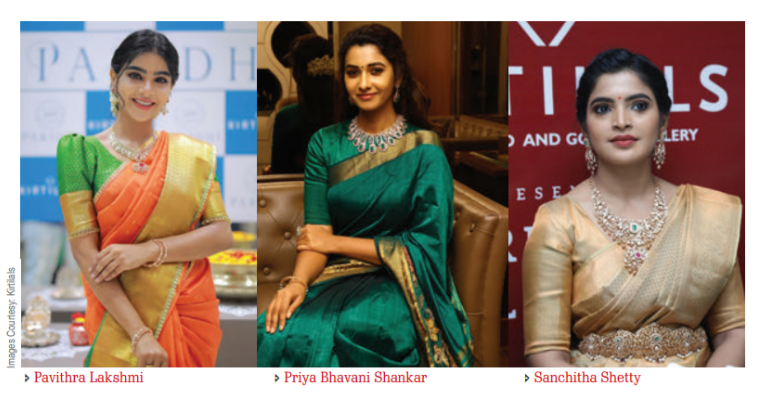 Kirtilals considers the following aspects when hiring an influencer:
Richness of previous content
Previous brand collaborations
Followers
Post Engagement rates
Budget
Influencers click
"In 2017, we realised that not just Bollywood celebrities but also everyday people who had a sense of style and an opinion that mattered were opinion leaders. We were as new to the platforms as these opinion leaders themselves. However, we hosted our very first influencer meet, inviting about 20 fashion & lifestyle influencers for a diamond masterclass," said Toranj Mehta, Director Marketing at De Beers India. Since then De Beers has been collaborating with the key opinion leaders from across the country who believe in the purpose of the brand. "The landscape is evolving and we are learning to adapt in different ways to connect with our audience," said Mehta.
Rare Jewels – A Ranka legacy is among the first few jewellers in Maharashtra to collaborate with social media influencers. It was important for the aspirational brand that its satisfied customers spread the good word about them. Influencer-led activities helped the brand achieve the same. Speaking about the brand's influencer engagement, Director Sheetal Ranka said, "During the pandemic we collaborated with content creator and social media influencers like Tina Kakkad (of the Image Code fame fame), Natasha Luthra, makeup artist Amrit Kaur, fashion designer Sheila Khan and the Bollywood / Lakme Fashion Week stylist Mohit Rai."
Mature is in
Although majority of the brands on Instagram are targeting millenials, the platform has given an opportunity for mature influencers to reinvent themselves. Former Bollywood stars Neetu Kapoor (63), Bhagyashree (53) and Sameera Reddy (43) have made a comeback via Instagram.
Senior actor Neetu Kapoor is increasingly being noticed for her age-appropriate style and choice of clothing, especially by mature women. Her combination of elegance and obvious joie de vivre has made the social media world take note and made Neetu an influencer with 1.9 million followers on Instagram.
Influencer marketing campaigns work because they feature real people with real stories and opinions. It is a great way for brands to engage, inspire and connect with their customers.
Thirty three years after she made her film debut through Maine Pyar Kiya, the real life princess and mother of actors Abhimanyu and Avantika is making a comeback to Bollywood. Her royal lineage, poise, eternal beauty and progressive approach made her and Avantika an ideal choice for Vandana M Jagwani's Lab Grown Diamond Jewellery brand Vandals.
Similarly, Sameera Reddy is looked up to by women of all ages, from Gen-Z to millennials, as the poster girl of everything that makes them insecure, as she champions being comfortable in one's own skin.
Mature is still in vogue. Rare Jewels recently executed a social media campaign featuring its mature and wealthy customers. The campaign generated excitement and enthusiasm as it coincided with JITO (Jain International Trade Organization) Connect, a three-day global convention attended by 500,000 visitors in Pune that was inaugurated by the PM Narendra Modi.
"For our Forevermark Avaanti campaign, we wanted to work with influencers who resonated with the communication line, 'A single ripple can start a wave,' women who had made a small change in their life that led to a large result. We selected 10 influencers from all walks of life – chefs, lawyers, comedians, models, musicians as well as artists. Each created content that reached 7 lakh people and engaged 80,000," shared Toranj Mehta of De Beers India.
Influencer marketing campaigns work because they feature real people with real stories and opinions. Former celebrities like Sameera Reddy work due to their emulate-ability factor. It is a great way for brands to engage, inspire and connect with their customers.
At GlobalLinker we believe that every small business has a big potential. So we provide the most powerful network, tools & resources to help you reach that potential.
Since Influencer Marketing is increasingly impacting purchasing decisions, it is something your business cannot ignore. To understand the 'What, When & How' of Influencer Marketing, GlobalLiner organised a webinar with seasoned digital marketer and SME expert - Vedanarayanan Vedantham (Veda). Watch the highlights here.
Image source: Canva & STOrai Magazine
Article source: Article by Anil Prabhakar for STOrai Magazine. Anil is an industry analyst, journalist and a consultant associated with jewellery and watch industries.
Disclaimer: The views and opinions expressed in this article are those of the author and do not necessarily reflect the views, official policy or position of GlobalLinker.