Influencer marketing has been a buzzword for a while and is now considered a mainstream form of marketing. Yet, many business owners wonder what all the fuss is about and whether influencer marketing could really add value to their marketing repertoire. Let's find out…

What is influencer marketing?
Influencer marketing is a marketing strategy that uses social media influencers to promote products or services. Influencers are people who have established themselves as experts in their field, usually through social media channels like Facebook, YouTube, Instagram, or Twitter. It takes the idea of celebrity endorsement and places it into the digital age.
Influencer marketing is more cost-effective than conventional advertising and more effective than word of mouth. It has allowed for an easier way for brands to reach their target audiences.
The rise of influencer marketing has been paralleled by the rise of social media use among consumers. This has allowed for an easier way for brands to reach their target audiences through influencers with large followings on social media channels. Influencer marketing is more cost-effective than conventional advertising and more effective than word of mouth.
Who is an influencer?
An influencer is someone who has:
The power to impact the purchasing decisions of others because of their knowledge, position, or relationship with the audience


A following in a niche segment with whom the influencer engages.

Influencers, unlike celebrities, can be anywhere. They can be anyone. An influencer can be a popular fashion stylist on Instagram, or a digital marketing expert of Youtube, or a respected motivational speaker. As per their expertise, they are the ones who make the most engaging posts, make the most-watched videos, and run the most topical and informative online discussions.

Influencer marketing landscape in India
If you have a product or service to sell, you've probably realised that it's essential to establish a strong online presence. With increasing social media penetration in India, influencer marketing is gaining further momentum. In fact, influencer marketing is a 900 crore market in India.


The total population of India is 1.39 billion and below are some statistics on social media usage that further point to the power of Influencer Marketing.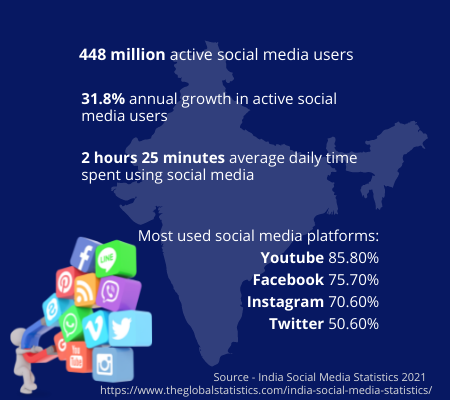 As per Starngage here are some statistics about Influencer Marketing in India


71% of consumers are more likely to make a purchase based on a social media reference.



86% of women turn to social networks before making a purchase.


32% of influencers who currently work with brands cite Facebook as the best platform, followed by Instagram at 24%.


86% of the most-viewed beauty videos on YouTube were made by influencers, compared to 14% by beauty brands, themselves.


57% of fashion and beauty companies have influencers as part of their marketing strategy.


For every $1 invested in influencer marketing, businesses on an average generate $6.50.
Types of Influencers?
Now that we have established that Influencer Marketing is something you ought to consider to build your brand presence online, the next big question - what are the different types of influencers? As per this source, there are primarily 3 types of influencers.


Mega-influencers: Such people are hugely popular in their given field. For example actors, athletes, top models, singers and other celebrities. Such people monetize their influence as a secondary source of income. Mega influencers have 500k+ followers, drive 2%  to 5% engagement per post. They have a high reach and are brands in their own right.



Macro-influencers: These are YouTubers and professional bloggers who have large base of 100,000 to 500,000 followers and drive 5%  to  20% engagement per post. Macro influencers have specific categories of influence – such as business, lifestyle, beauty etc. Such individuals most likely earn their living as an influencer.



Micro-influencers: This is a category of everyday consumers who have 1,000 to 100,000 followers and drive upto 25 -50% engagement per post. Micro-influencers have high relevance as their influence is driven by their personal experience of using a product or service.

Since Influencer Marketing is increasingly impacting purchasing decisions, it is something your business cannot ignore. To understand the 'What, When & How' of Influencer Marketing, GlobalLiner organised a webinar with seasoned digital marketer and SME expert - Vedanarayanan Vedantham (Veda). Watch the highlights here.
Article image source: Canva
Posted by
GlobalLinker Staff
We are a team of experienced industry professionals committed to sharing our knowledge and skills with small & medium enterprises.