The coronavirus pandemic has led to a number of questions arising in the minds of business owners and MSMEs with regards to insurance implications. I have tried to address these in the form of a conversation between Gautam Vaidyanathan, a business owner and Neelesh Kulkarni, an independent insurance professional.

Gautam is owner of a medium sized business empire that ranges from an engineering workshop, a tube manufacturing company, a chemical manufacturing unit and a specialised software development firm. While he is a second generation businessman in his family, he had his ears close to the ground, engages professionals to run his business and the business has been growing. Gautam himself is a professional and takes a long term approach to business. And that is one of the reasons why his software development company has developed a niche market and earned a name for itself.

Gautam was thinking about restarting the units. Then he and his team had a discussion with Neelesh regarding the implications from an Insurance and Risk Management perspective.

Gautam: With the Government of India taking measures to reopen the economy in various ways, what are the implications for workplaces – factories, offices and like from an Insurance perspective?

Neelesh: Thanks for asking that question. There are multiple implications. Let me go over them one by one.

Gautam: Ok.

Neelesh: Government of India (GoI) has issued a circular, No.40-3/2020-DM-1 (A) Dated 29th April, 2020, giving a wide variety of instructions, Do's and Don'ts, to various stakeholders, including industries, offices and other workplaces. From an Insurance perspective, Annexure II to this circular is critical. Point #5, states "Medical Insurance for Workers to be made mandatory".

Gautam: What does this mean?

Neelesh: It means that workers have to be covered under Medical Insurance and is mandatory. And to be on the safer side, considering that the background is that of a pandemic that is also highly contagious, I would expand it to cover not only workers but all employees of a workplace including factory. The idea is to that should a person not have medical insurance but contracts Covid-19, s/he needs a mechanism to take care of the expenses.

Gautam: Thanks. There are few questions that I have. Medical Insurance - does it mean any specific medical insurance policy? Secondly, I often hear Mediclaim, Health Insurance etc. Are they one and the same? And when the Government says Medical Insurance, does it mean that the workers have to be protected only against medical expenses arising out of Covid-19?


Neelesh: Let me clarify one by one.

a. Mediclaim Vs. Health Insurance. Both are one and same. Mediclaim was the name when this kind of Insurance was introduced way back in late '80s.

b. The government wants that the Workers be covered with Medical Insurance. There is no mention of any sum insured limits or what kind of a policy. The idea is that should any worker be infected with Covid-19, then he/she should not have to bear the medical expenses and that there is an insurance cover.

Gautam: When you say take care of expenses, would it mean all the expenses? There could be cases where a person may incur about Rs 50,000 and in another case, it could be Rs 3,00,000 and in another case, it could be much more. So what do we do?

Neelesh: You are right. The quantum of claim can not be estimated at all and that too in advance. So, I would advise you to consider an Insurance policy that would by and large cover that could be incurred by an individual. And, since this is a welfare measure, I would suggest taking a wider Group Mediclaim Insurance rather than the policy that covers only Covid-19.


Gautam: Ok. Thanks for clearing the basic points. But what are the options if we were to opt for Covid-19 only policy? Can you elaborate?

Neelesh: Yes. A Covid 19 specific policy covers only Covid 19 related incidents/expenses. Companies like GoDigit Insurance, Reliance General, ICICI Lombard, Religare Health Insurance brought Covid-19 only Health Insurance policies. Currently, on offer are the ones from GoDigit and Reliance General Insurance. The rest have withdrawn the product.

For your ready reference, am giving a comparison chart in the next page. Also would like to mention that the policy of Digit Insurance is a reimbursement policy whereas from Reliance General is a benefit policy.

Gautam: What would be a benefit policy?

Neelesh: It would mean that should an employee be diagnosed with Covid and completing the formalities, Reliance General would release the Sum Insured stated under the policy. This is provided for a broad understanding only. Insurers introduce and withdraw their products.

Gautam: Let me go through the table below and ask my questions: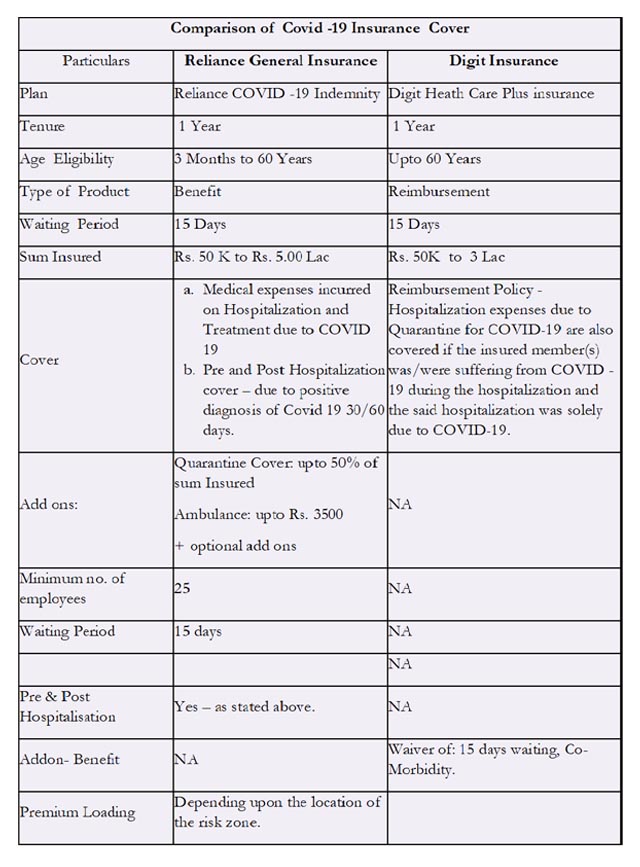 Gautam: Thanks for the above comparison! Now I have some more questions.

Neelesh: Please go ahead!

Gautam: Since the policy by GoDigit covers only Covid-19 related treatment, what happens if the person insured has Covid-19 which then leads to other health related issues and the treatment extends to that subsequent medical condition. Then will those expenses be covered under this policy?

Neelesh: Covid-19 specific policies will cover related only to Covid-19 treatment. Anything else will not be covered.


Gautam: But will this specific policy meet the requirement of the circular issued by the Ministry of Home Affairs?

Neelesh: Yes, it will. Remember, the circular does not specify: (a) what the Insurance should cover and should not; (b) the sum insured. As stated earlier, the intent to have a financial support for the person insured.

Gautam: Would that mean that workers who are covered under ESIC don't need to be covered under a separate policy.

Neelesh: Yes. According to https://www.esic.nic.in/information-benefits full medical care is provided to an Insured person and his family members from the day he enters insurable employment. There is no ceiling on expenditure on the treatment of an Insured Person or his family member.


Gautam: Ok. Thanks for the above information. We have seen Covid-19 specific policies. What are the other kind of Group Medical Insurance policies.

Neelesh: There are few other policies that have been launched recently aimed specifically at workers. These cover inter alia:


Room Rent – both normal and ICU expenses – typically at 1% and 2% respectively of the Sum Insured.
Ambulance charges
Day Care procedures
Covid 19 coverage – (In Patient Treatment is cover, home quarantine not covered)
Generally the sum insured is up to Rs 200,000/-.
Some policies waive off any waiting period and there are some that have waiting periods.


The above is to give a general guideline as to what are various the options that one has. It will take some element of trial and error process to arrive at what we require.

Gautam: Are these the only options?

Neelesh: We have other options too!! What I spoke about is just a glimpse what is available and focused on employee – workers. There are other policies that has a wider cover.

Gautam: Such as?

Neelesh: A typical Group Mediclaim Policy is a highly customisable product that could cover your employees for all medical emergencies. It would require some element of discussions to arrive at the cover that is most optimal.

Gautam: You got me talking! I have one more question. Suppose, an employee (with his family) is covered for Rs 3.00 Lakhs and during the course of the year, has to be hospitalized and the total cost is say Rs 4.50 lakhs, is there someway the balance could be met with by the Insurer rather than my company having to pay the balance or in worse case, employee having to manage the balance?

Neelesh: Absolutely possible!! Within the policy, we can have a provision called, corporate buffer of some amount. Corporate buffer is like an emergency exigency fund. It meets the expenses that come over and above the sum insured that is provided for individuals. You can fix a limit for the corporate buffer.

Gautam: Thanks very much for all the information. How long will it take to finalise the cover and the policy?

Neelesh: Insurers would like to have the details of the employees' demography in a specific format that I will send it across. Once that is provided, it takes about 10 to 12 working days to finalise the policy.

Gautam: I really appreciate the time that you spent with me. There are other insurance matters to be discussed too. Let us take a break and discuss it later.


Also read: FM announces measures to boost MSMEs; change in definition of 'MSME'
Image source: shutterstock.com


To explore business opportunities, link with me by clicking on the 'Connect' button on my eBiz Card.


Disclaimer: The views and opinions expressed in this article are those of the author and do not necessarily reflect the views, official policy or position of GlobalLinker.
Posted by
Natarajan Ramanathan
Am an Insurance Advisor and have proven capabilities in providing Non Life Insurance Solutions covering broadly all kinds of Insurance for Corporates. Operate primarily in Fire...