To bring back the momentum in a corona hit economy, Prime Minister Modi in his address to the nation on 12 May 2020, called out for a 'Self-Reliant India Movement'. He announced a special economic package of Rs 20 lakh crores, equivalent to 10% of India's GDP.


As part of the first tranche of this Rs 20 lakh crore stimulus package, the Finance Minister, Nirmala Sitharaman today announced six measures for the MSME sector among other relief measures.


1. Rs 3 lakh crores collateral-free automatic loans for businesses, including MSMEs
An emergency credit line to businesses/MSMEs from Banks and NBFCs up to 20% of entire outstanding credit as on 29 February 2020.
Businesses with up to Rs 25 crore outstanding loan or up to Rs 100 crore turnover are eligible for this scheme which is expected to benefit 45 lakh MSMEs.
Tenure is 4 years, with a moratorium of 12 months on the principal payment.
Scheme can be availed till 31 October 2020. There will be no guarantee fee, no fresh collateral required.
2. Rs 20,000 crores subordinate debt for stressed MSMEs
Government of India will facilitate provision of Rs. 20,000 crore as subordinate debt. Functioning MSMEs which are NPA or are stressed will be eligible.
Promoters of the MSME will be given debt by banks, which will then be infused by promoter as equity in the Unit.
Two lakh MSMEs are likely to benefit by this scheme.
3. Rs 50,000 crore equity infusion for MSMEs through Fund of Funds
MSMEs face severe shortage of equity. Fund of Funds with Corpus of Rs 10,000 crores will be set up.
Will provide equity funding for MSMEs with growth potential and viability. FoF will be operated through a Mother Fund and few daughter funds. Fund structure will help leverage Rs 50,000 crore of funds at daughter funds level
This will help to expand MSME size as well as capacity. Will encourage MSMEs to get listed on main board of Stock Exchanges.
4. New definition of MSMEs
Low threshold in MSME definition have created a fear among MSMEs of graduating out of the benefits and hence killing the urge to grow. There has been a long-pending demand for revisions.
Definition of MSMEs is thus being revised. Investment limit will be revised upwards. Additional criteria of turnover is also being introduced. Distinction between manufacturing and service sector is to be eliminated. Necessary amendments to law will be brought about.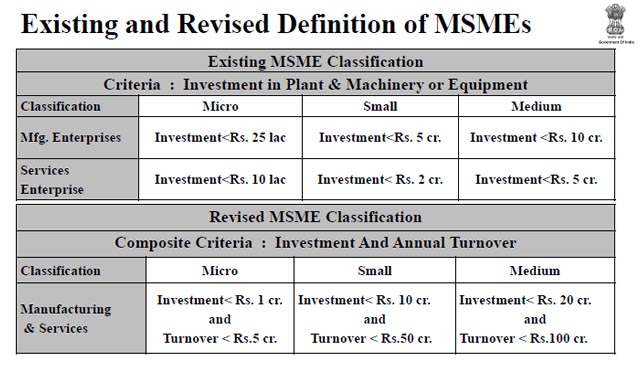 5. Global tenders to be disallowed up to Rs 200 crores
Indian MSMEs and other companies have often faced unfair competition from foreign companies. Therefore, global tenders will be disallowed in Government procurement tenders up to Rs 200 crores.
This will be a step towards 'Self-Reliant India' and support 'Make in India'. This will also help MSMEs to increase their business.
6. Other interventions for MSMEs
MSMEs currently face problems of marketing and liquidity due to COVID-19. E-market linkage for MSMEs to be promoted to act as a replacement for trade fairs and exhibitions. Fintech will be used to enhance transaction based lending using the data generated by the e-marketplace. Government has been continuously monitoring settlement of dues to MSME vendors from Government and Central Public Sector Undertakings. MSME receivables from Government and Central Public Sector Enterprises (CPSEs) to be released in 45 days.
For all details of the measures announces today, click here.
Posted by
GlobalLinker Staff
We are a team of experienced industry professionals committed to sharing our knowledge and skills with small & medium enterprises.