Enterprise: Sensa Core Medical Instrumentation Pvt Ltd
Founder: Dr Ravi K Meruva
Industry: Healthcare, Medical Supplies & Pharmaceuticals
Year it was founded: 2006
Location: Hyderabad, Telangana


India has the second highest number of people in the world with diabetes and yet most glucose meters available in the market are manufactured abroad. Similarly, the Electrolyte Analyzer machine which is a staple in every hospital ICU set-up is mostly imported from China, Japan, US or European countries. Recognising this gap, Hyderabad-based Dr Ravi K Meruva decided to change the status quo. An alumnus of IIT-Chennai and with a PhD degree from University of Michigan, Dr Meruva was armed with the required scientific knowledge and after successfully establishing a venture in the US, he also had plenty of experience as an entrepreneur.


Dr Meruva launched Sensa Core Medical Instrumentation as a fully bootstrapped enterprise in 2006. His focus was clear— build a strong but lean R&D team and manufacture high quality equipment at par with foreign contemporaries in performance, while priced at almost one-third of their cost.


A fine example of 'Make in India', Sensacore is now a 100+ crore turnover company that produces a variety of electrochemical sensors and analytical instruments. For their exemplary product innovation, Sensacore recently won the Best Innovation Award (Silver) at the Telangana State Industry Awards, hosted on the GlobalLinker platform.


We caught up with Dr Ravi Meruva to get more insights on his business journey. Excerpts from the interview.


Can you tell us more about your business? What motivated you to start it?
Sensacore is leader in Ion-Selective Electrode based Analyzers, Arterial Blood Gas/Electrolyte/Metabolite Analyzers and POCT devices (Glucose meters, Lactate meters and Haemoglobin meters), all indigenously designed, developed and manufactured at a state-of-the-art 150,000 sq. ft. manufacturing facility, located in a 5-acre landscaped campus in Hyderabad.


The ability to bring multiple disciplines (Chemistry, Industrial Design, Mechanical, Electronics and Software) under one roof has helped us build a complete and comprehensive end-to-end solution.
Every time I visited hospitals, I would see products from the US, Europe, Japan and China, but I rarely found anything remotely made in India. The products might have an Indian identity or label or brand, but the product was still imported and at best assembled in India, but not manufactured in the country. With 13 crore diabetic patients in India, the second largest in the world, there is not a single mass-manufacturer of glucose meters and strips in India. Similarly, we did not manufacture fully automated Haematology Analyzer, Electrolyte analyzer, Blood gas Analyzer and other basic analyzers needed to run any diagnostic centre or hospital.


We wanted to make all these sophisticated Analyzers in India in-line with the current 'Make In India' initiative. In the last 12 years, we have succeeded in mass production of Electrolyte Analyzers, Blood Gas Analyzers, Glucose meters and strips and continue to add more analyzers to the portfolio.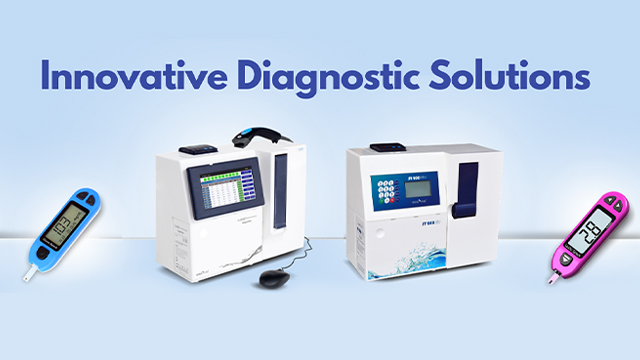 How does your business differentiate itself in the industry?
Sensacore has been known for its innovations for introducing non-existent products, locally manufactured at affordable prices. It is very important to have local manufacturing to keep control over the pricing. For each of the products that Sensacore has designed and launched, emphasis has been placed on the performance and robustness of the product, at the same time the products are delivered at prices that are within reach of common man or smallest lab. Affordability of the products has always been of paramount importance and that can only be achieved by local manufacturing and mass production.


What are the challenges for your business to grow bigger, better and faster from here?
Capacity creation and mass production can only be addressed by moving to completely integrated and automated assembly lines and the commissioning of automated assembly lines is a very capital-intensive proposition. Reinvesting in building the infrastructure expansion resolved the capacity creation.

Second challenge we face is regulatory hurdles and approvals and certifications that are needed for international expansion.

Third biggest challenge we faced was disruption of supply chain, logistics hindrances and substantial increase in the raw material costs, all of which was directly related to the Coronavirus driven impact across the globe. Only way out of this challenge was to plan at least 12-18 months ahead of time and to tighten the inventory management.


How has GlobalLinker helped your business?
GlobalLinker has definitely provided us with recognition and also helped our brand with media exposure and increased visibility. Silver trophy for the most innovative business in Telangana for the year 2021 brought accolades to our vision and execution and brought us into the limelight.


Could you name 3 things that have been instrumental to your success?
Mastering of the Bill of Material cost has made our business very viable.
In addition to that, the ability to make most of the assembled components in-house instead of out-sourcing has helped us reduce the import dependency of the peripheral components that make up the analyzer.
Finally, the ability to bring multiple disciplines (Chemistry, Industrial Design, Mechanical, Electronics and Software) under one roof has helped us build a complete and comprehensive end-to-end solution.


What is the next big thing on your business agenda?
Internet of things based connected devices. Since instrumentation is a big part of our business, connectivity of the multiple devices/analytes of interest via App is the next big thing. A single device that can do multi-testing like glucose, blood pressure, temperature, haemoglobin and other critical parameters, could become a must-have for home health care.


What advice would you give to a new entrepreneur?
Stay focused, stay relevant and have a long-term vision. Have an out-of-box approach and be relentless in your pursuit. Remember, some succeed within a short span of time and some ideas take a decade or more to come to fruition.
We would love to know the person behind the entrepreneur.
Every day you wake up at - 6 AM

The first thing you do when you wake up? - A long walk and a big cup of ginger laced chai, catch up on all pending emails, news and WhatsApp messages.

Three things you do to unwind - I love to travel to various countries and explore different cuisines. Movies, music, dance, long walks and long-distance bike riding form part of my daily routine.

When you face a big challenge, you - When I face a big challenge, I always take a pause and play out all the options to address the challenge and then take the most plausible way out with minimal impact.

The best piece of advice you've ever been given - The best advice I have received is from my Professor in Chemistry — Perseverance comes from within, so stay on course and stay relevant.

The one book everyone should read - You can Win by Shiv Khera
Network with Ravi K Meruva by clicking on the 'Connect' button on his GlobalLinker profile.


Also read: Third generation entrepreneur reinforces cargo solutions business

Disclaimer: This article is based solely on the inputs shared by the featured member. GlobalLinker does not necessarily endorse the views, opinions & facts stated by the member.