The most common global challenge in the healthcare ecosystem is the crowding of emergency rooms (ER), leading to severe outcomes. But healthcare analytics is easing the situation for healthcare providers. Let's discuss one of the success stories – a hospital and research center utilized health analytics methods to identify areas of deficiency and suggest potential improvements to ER performance. They monitored KPIs such as – ER length of stay, reflecting efficiency and percentage of patients leaving without treatment to reflect the effectiveness of ER.

A retrospective analysis of 26,948 ER encounters in 2014 reduced the ER length of stay to 12 h in 2016 from 20h in 2014. The percentage of patients left before complete treatment was significantly reduced to 5.5% in 2016 from 13.5% in 2014. 


Not only ER but healthcare organisations around the globe are using analytics to reduce costs, improve coordination and outcomes, provide more with fewer resources, and become patient-centric. The global healthcare industry is experiencing a shift as it moves from a volume-based to a value-based business. With increasing demands of consumers for enhanced healthcare quality, healthcare providers and payers need to deliver better outcomes. 


Healthcare organisations around the globe are using analytics to reduce costs, improve coordination and outcomes, provide more with fewer resources, and become patient-centric. The global healthcare industry is experiencing a shift as it moves from a volume-based to a value-based business.
Primary care physicians and nursing shortages require overworked professionals to be more productive and efficient. The cost dynamics are now driven by people living longer, the pervasiveness of chronic illness and infectious diseases, and defensive medicine practices. New approaches to healthcare delivery are increasing complexity and competition. 


The healthcare industry requires intelligent and informed decisions to enable outcomes according to market dynamics, government regulation, and increased consumer demands.


What is Healthcare Analytics?
Big data in healthcare refers to the enormous healthcare data sets made from various sources. The sources could be EHR, pharmaceutical research, genomic sequencing, medical devices, personal health monitoring devices, insurance companies, and healthcare providers. 


These datasets are massive, complex, and varied; thus, cloud-based solutions can help to establish extensive data infrastructure within a scalable environment. When siloed datasets from these sources, different environments and formats are integrated and analyzed can impact healthcare delivery. 


 Healthcare analytics can overcome several industry-associated challenges by:
Making healthcare data accessible to all the stakeholders.
Getting accurate data-driven forecasts allows healthcare providers to respond quickly to the changing market landscape.
Enhancing data collaboration among healthcare organizations to convert data into actionable insights by automating data management tasks.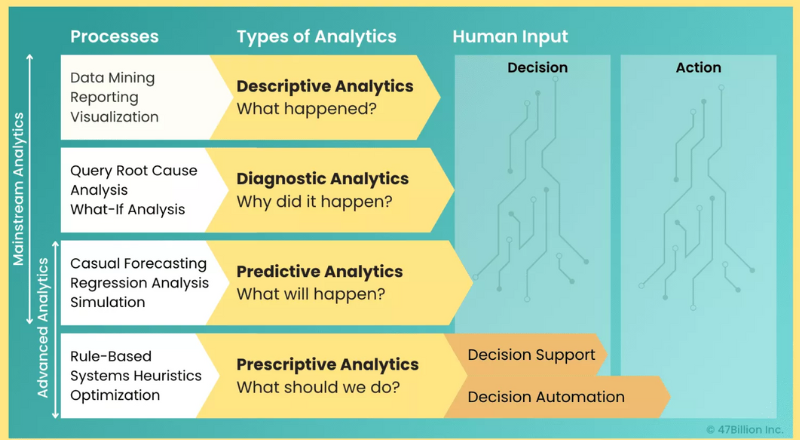 Healthcare organizations are achieving their strategic effectiveness goals and operational efficiency objectives. They are recently keen to know whether they are getting the complete value from a large amount of available data. 


Healthcare analytics is a diligent terminology that confines various aspects and dimensions of business intelligence applications and extensive data analysis. It helps in understanding the diverse functions of the industry. 


Here are four types of analytics that, when practiced in the healthcare sector, can help in the improvement of patient care on a greater scale.
1. Descriptive Analytics
This analytics provides reports and analysis based on past events. The method examines and describes something that's already happened. The results are presented in reports and analyses based on past data. This examines and describes something that's already occurred. The results are presented in reports, bar charts, and other easily understandable visualizations. 


For example, in the healthcare industry, descriptive analytics can help understand the impact a disease can create based on past events by examining the results of positive tests in a specific population over time. 


2. Diagnostic Analytics
Diagnostic analytics helps answer the critical question of "why the event occurred within a particular area." This helps in understanding the cause of the event. Using this methodology, the providers can diagnose a patient with a particular health issue based on the symptoms and past health history.


3. Predictive Analytics
As the name suggests, predictive analytics helps predict unknown future events. 


This is done using many techniques, from data mining, statistics, modeling, machine learning, and artificial intelligence. Providers can use predictive analytics to enhance healthcare by assisting decision-making that helps improve patient follow-ups and satisfaction and provides relief for healthcare workers. 


The method allows providers to determine individuals at risk of developing severe infections or chronic diseases. Identifying people at risk help professionals with an opportunity for early intervention and chronic disease prevention. 


4. Prescriptive Analytics
The primary focus in this type of analytics is "What should/can be done?" 


Healthcare organizations can devise actionable plans based on existing data. For example, suppose a healthcare facility is facing many hospital-acquired infections. In that case, a prescriptive analytics program helps them by not only flagging an anomaly and highlighting any vulnerable case in the facility but also identifying the particular provider required to assist in the case. This helps the healthcare facility evaluate patients' pre-existing conditions, determine their risk of developing future conditions, and implement specific preventive measures and treatment plans.


Major stakeholders involved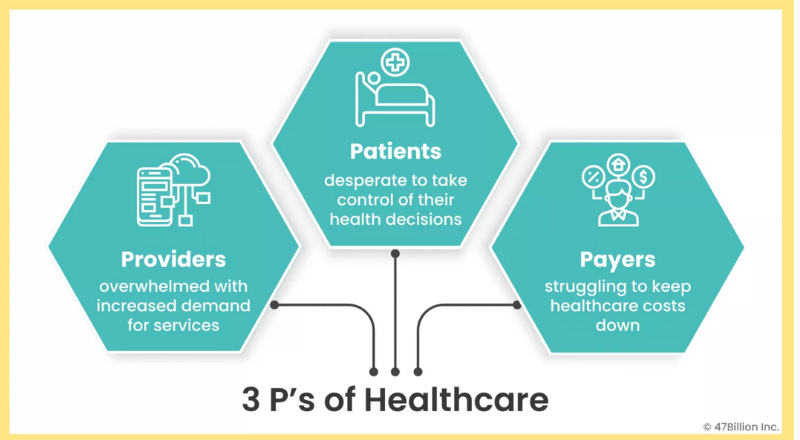 The stakeholders performing data analytics in various healthcare settings include researchers, physicians, hospital administrators, and insurance industry executives. Healthcare professionals work in conjunction with data experts. The three groups of stakeholders are:


Clinical practitioners – Data analytics in clinical settings tend to reduce patient waiting time through automatic scheduling and staffing and reduce readmission rates through population health data-based predictions.


Healthcare payers – Insurance firms confirm that they comply with ever-changing regulations, analyze claims and prescriptions to target prevalent health problems, and compare pricing data using quality metrics to identify high-value, low-cost health providers. They can also analyze patterns to spot potentially fraudulent claims and notify providers about at-risk claims.


Population health managers – Public health professionals can emphasize predictions and take preventive measures. They can identify high-risk chronic illnesses at early stages. They can analyze lab tests, claims data, and personal health information to reduce the risk of long-term illness and improve patient outcomes.

Major KPIs to take under consideration


With BI, all the constituents can work together over a secure network. BI's centralized administration and role-based security ensure security measures at every architecture layer. The main KPIs are – Avg Cost per case, Cost & clinical data, Disease management, Investment in research programs, Patient Safety & staffing, Population risk, Response time, Clinical outcomes, Cost-effectiveness, In-patient admission rates, No of procedures vs. benchmarks, Performance reporting, Resource consumption vs. a standard, treatment.


BI supports safe care delivery, assists clinicians with evidence-based clinical decision-making, and facilitates seamless care coordination across all healthcare organizations. The relevant KPIs are – clinical outcomes, dispatch request and monitoring, patients' wait time in admission, service complaints, services performed, next appointment date, patient functionality, patient wait time, service level agreement, and timeliness of service.


BI's analytical capabilities help providers to analyze current care practice patterns to identify unutilized services, execute cash flow analysis, forecast collections and monitor underwriting requirements. The major KPIs are – accounts payable, accrued expenses, debt as % net revenue, capital expenditure growth rate, etc.


Providers can use BI tools to monitor quality care according to the Health plan and information set (HEDIS) standards to allow performance comparisons across quality, patient access, satisfaction, and financials. The major KPIs are – Dose, Handling costs, length of visit with a nurse practitioner, medication errors, frequency of hospitalization, etc.


Benefits of implementing analytics in the healthcare ecosystem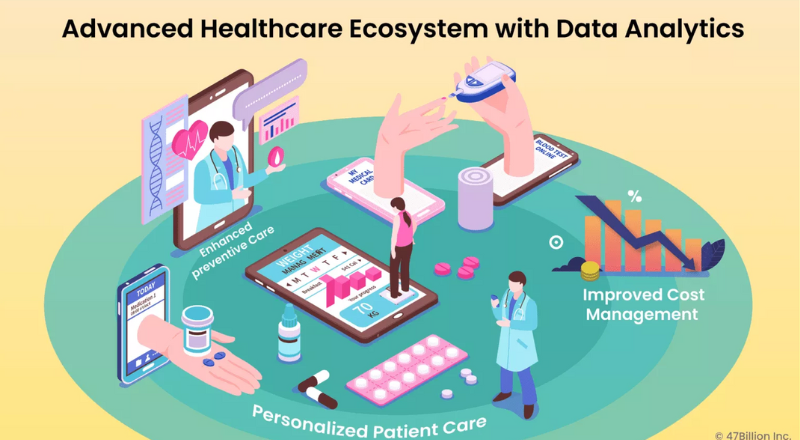 Assisting medical research using public health records
Data analytics is applied to improve research efforts in many healthcare practices by gathering and analyzing clinical data from various sources. EHRs, EMRs, personal health records, and public health records are the most valuable sources.


Electronic Health Records combine patients' clinical reports, including X-rays, CT scans, MRIs, diagnoses, treatment plans, allergies, and test results in digital formats. This makes the information accessible and sharable and introduces privacy and regulatory compliance standards during data usage. 


Electronic Medical Records are similar to EHRs but include information only from patients' paper charts created in provider facilities. They are used for diagnosis and treatment; their primary value is in tracking patients' healthcare over the years of visits and screenings. 


Personal Health Records help maintain patient treatment history that remains with patients only. The records even include data from health-tracking devices. These records assist in the patient's health management and do not legally replace the medical records from providers.


Public Health Records are among medical research's most promising health data sources. For example, CRDC – Cancer Research Data Commons is a cloud-based data science platform. It links data analytics tools with data repositories to store genomic, proteomic, comparative oncology, imaging, and various data types. 


The benefits for researchers associated are:
They can identify approaches to improve the efficiency of clinical processes and other healthcare operations. The research sometimes leads to accurate diagnosis and treatment by personalizing healthcare provision.
Cohort studies give medical researchers new insights into disease causes by linking risk factors with health outcomes.


Improving health outcomes based on overall patient data
The goal is quality services provided in healthcare settings to treat patients effectively while minimizing the trauma associated with their treatment. To achieve this, providers collect and analyze patient data, increasingly in real-time, gain a clearer understanding of today's complex healthcare environments, and develop a systematic approach to improve patient outcomes.


By analyzing patient data, providers can lower readmission rates, reduce errors, and better identify at-risk populations. Healthcare professionals face several challenges in gaining timely access to patient data that can help improve service quality. To avoid being overwhelmed with patient data, focus on major KPIs and manipulate data based on those measures. This requires qualitative assessments of the patient data. Professionals need to ensure that the measures are accessible to providers and trackable over time to mark improvement gains.


Patient-reported outcome measures(PROM) are – Recovery from acute illness, living well with a chronic condition, and maintaining a healthy life in old age. 


A patient history helps assess their overall health goals, how well they complete their activities, their mood and energy level, and how much pain they are experiencing. Using PROMs could be a tedious task. To make patient data readily available, the National Institute of Health has created a Patient Outcomes Measurement Information System (PROMIS) that helps evaluate and monitor adults' and children's physical, mental, and social health. 


Gaining operational insights based on provider data
Improving healthcare quality starts with an organization-wide assessment of current conditions combined with the alignment of the institution's strategies and goals for improvement. The operational areas that benefit from data analytics include appointment scheduling, record handling, emergency planning, administrative task management, financial planning, and maintaining security and compliance. 


Among the approaches, providers take to enhance their operational efficiencies along with maintaining a high standard of care include:
 
Waste Reduction: The annual cost of recoverable waste in the U.S. healthcare industry is estimated at $1 trillion. Much of the waste is due to changes in clinical practices, improper care, preventable care-related injury and death, and failures of proven procedures.


Cost-effective usage of technology: Adopting cutting-edge tech is a time-consuming process. A framework for cost-effective implementation of data analytics that focuses on measuring, understanding, and improving operations is required.


Increasing hospital capacity – Managing demands based on real-time insights can help bring less expensive alternatives for building a new healthcare facility. 


Improved project management: As healthcare organizations adopt ecosystem-based models to enhance patient outcomes and operational efficiency, project management becomes integral to cost control and risk management. 


Sustaining outcome improvements: Efforts to implement data-driven enhancement to healthcare operations often need to pay more attention to the resources needed to sustain the improvements. Organizations should engage all stakeholders at all process stages to ensure the long-term success of analytics efforts.


Improving staffing using Health business management analytics
Data analytics has its application in healthcare business management for identifying staffing challenges and recruiting, hiring, training, and retaining professionals. Healthcare providers must balance the need to maintain costs and improve efficiency and patient outcomes. For instance, take the example of HPH, one of Hawaii's largest healthcare systems. It saved $2.2 million over 16 months and maintained high-quality outcomes by adopting data-driven practices for labor and cost management. 


They replaced their paper-based management system with computer-generated visual representations of labor utilization that combined real-time views of staffing with visual representations of staff levels. Managers were able to predict the productivity of individual workers and teams. 


Conclusion
Healthcare analytics allow providers to access real-time and historical information to make decisions about a patient's care and treatment, underpinning one reason healthcare analytics is essential. On the operations side, healthcare analytics give organizations greater visibility into their resource capacity, including staffing and equipment. It helps them make more informed procurement and staffing decisions that enable them to run the business efficiently. 


It allows organizations to take their structured and unstructured data and convert it into insights they can use to drive better decision-making and achieve their strategic goals. Data management platforms, BI tools, and modern edge computing can help healthcare decision-makers maximize the value of their data. 


Leveraging healthcare analytics in today's digital age requires the right capabilities. Learn about how 47Billion can help build an advanced data-driven health ecosystem.
To explore business opportunities, link with me by clicking on the 'Connect' button on my profile
Image source: Canva

Disclaimer: This article is based solely on the inputs shared by the featured members. GlobalLinker does not necessarily endorse the views, opinions & facts stated by the members.