In common words, a Trademark is a symbol or a phrase or a word. They represent either the company or a particular product. Trademarks also include acronyms, fonts, slogans, and even particularly designed colours. There are different categories of trademarks. Such as sound, word, logo, design, slogan, shape, emblem, letters, and many more. There are no restrictions on where the ® symbol has to be placed in your Trademark.
™ Vs ®
Many of us think that the ™ and ® symbols can be used alternatively. But that is wrong, both ™, ® symbols convey different meanings. Here's a look at it. The ™ symbol is commonly used on new designs, logos, phrases, or words by the particular association or the individual. While waiting for the Trademark Registration. A registered Trademark for a particular service/product is indicated by the ® symbol. Trademarks can be either registered or unregistered.
Also read: Common trademark mistakes to avoid
When a particular product has a Trademark that doesn't mean it is a Registered Trademark. ™ symbol can be used for unregistered Trademarks but ® symbol cannot be used for unregistered Trademarks. The symbol should be used for only registered Trademarks. The ™ trademark has no protection while the symbol ® has protection and also legal rights.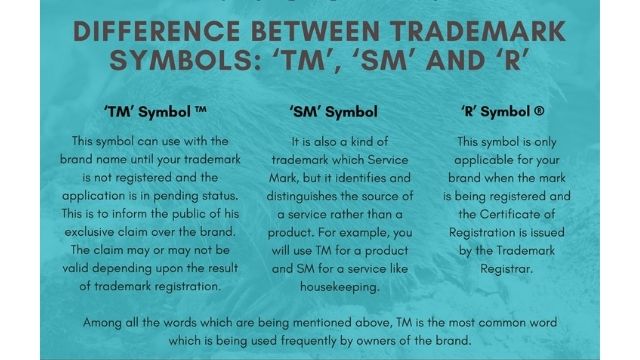 SM symbol is used to represent services by an individual or a company but not manual products. It is inaccurate to use ™ symbols if you sell services rather than products and vice versa. Generally, the SM symbol is used when services are offered. Like the symbol ™, SM is also an unregistered Trademark and it has no protection.
The symbol © is a copyright symbol. Copyright is to protect intellectual creations. The © symbol is for the user when the Copyright Registration of intellectual works takes place in India. Like Music works, Artworks, Literary, Dramatic, and many more. The sign © gives Copyright Protection to any work like paintings, photographs, books, videos, web designs, songs, etc. In case of violation by anyone legal action will be taken. Copyrights are not for names, titles, Trademarks, plans, ideas, techniques.
Benefits of Trademark Registration
The owner of the particular Trademark has the exclusive rights and control over the product. In case of infringement, the owner has the right to take action against the third-party. Registered Trademark saves customers from purchasing or using low-quality products/apps from other developers. Registration of Trademark develops a formless asset i.e. Intellectual Property for the individual or the organization. Trademark promotes goods, products, apps, and services. After Trademark Registration, your Trademark has protection for 10 years at a reasonable price. You can renew it every 10 years.
Trademark identifies the birth of the product, name, design, logo, or service. The commercial interests of an individual or a company get protection by Trademark. One of the advantages of having a Registered Trademark is the Product/service will be trusted by customers. It attracts young people, makes it easy for you or your company to have sufficient human resources. When you want to extend your products or services to a foreign country. Then the Trademark Registration in India will act as the basis for registration in other countries. Having a Trademark makes it easy for customers to find your product, logo, or service. If someone either intentionally or unintentionally infringe your Trademark. Then they will ask to eliminate the name or design and also need to pay legal fines and fees.
Also read: Trademark your brand to safeguard your brand
Trademark Registration in India
There are different categories of trademarks. Such as sound, word, logo design, slogan, shape, emblem, letters, and many more. The first step is to have a proper name for your product/service. Many individuals often try to have descriptive names because it describes the product. Choosing a name is surely time taking. Because, when applying for trademark registration, if your Trademark name is similar to other rivals. Then you might receive a letter stating to change your Trademark name. So to avoid this Trademark search should arrange. It is available in both offline and online methods.
Consulting an experienced lawyer is useful. You have to fill the-1 application for Trademark Registering. This form takes 2 days to complete and each application costs Rs.4,000. If you are applying for two classes(sectors) then it costs Rs.16,000 in total for 4 applications. In addition to this, you have to pay for the lawyer too. Trademark Registration is sure expensive but you will also get the maximum benefits from it. After the trademark registration, you can use the ® symbol for your product.
Also read: How to register a trademark for your brand
Conclusion
There is a significant difference between ™ and ®. Trademarks can be registered or unregistered. If your product has the potential to gain success then it is good to have a registered Trademark.
Also read: Trademark your business

To explore business opportunities, link with us by clicking on the 'Connect' button on our eBiz Card.


Disclaimer: The views and opinions expressed in this article are those of the author and do not necessarily reflect the views, official policy or position of GlobalLinker.