Enterprise: Multifabrics Corp
Managing Director: Vikram Gandhi
Industry: Textile, Apparel, Leather
Year it was founded: 2002
Location: Surat, Gujarat


After completing his education, Vikram Gandhi moved to Surat to explore business opportunities. To begin with he worked in textile shop and he leveraged this first-hand experience to establish Mulitfrabrics Corp in 2002. He caters to the fabric requirements of clients across India has even started an online portal to provide uniforms of all types.


In conversation with GlobalLinker (GL), Vikram shares his business journey.


GL: Vikram, tell us about your business and what motivated you to become an entrepreneur?


Vikram: I am a first generation, hands-on entrepreneur. After completing my graduation, I came to Surat to explore business opportunities as at that time Gujarat was considered the best place to do business. True to its reputation, I found Surat to be an enterprising city and I started working at a small textiles trading shop to learn the tricks of the trade. After a few years with the help of a friend's loan, I started 'Multifabrics Corp' with an aim to cater to the fabric requirements of clients across India. I started the business in the year 2002, but the real break came with the advent of the internet, when I found that I could reach a much wider audience with ease. In the year 2007, I launched www.uniformsarees.in, which is now India's premier brand for uniform sarees across various categories. We supply to more than 5000 schools, hospitals, jewellery showrooms across India. Our major clients include Reliance Jewels, Apollo Hospitals, ITC, Radisson Blue and many other premium brands. Now we are expanding into launching readymade apparels for uniforms across men's categories too.


Also read: Prateek B Singh, Founder, Shoppingkart24 Online Services Pvt Ltd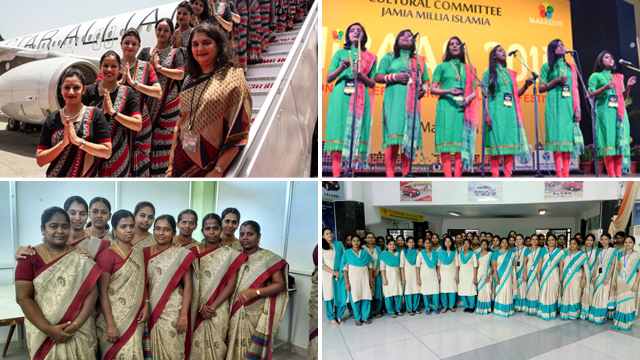 GL: What has been the most effective way of raising awareness about your business?


Vikram: We believe in building a brand on strong business fundamentals, and have nurtured our brand with quality products, personalised services and most vital is continuous supply, which is the main concern when it comes to uniforms. We have a dedicated team to handle our social media space and our e-commerce portal works as a catalyst for all kind of business awareness.


After graduation, I came to Surat to explore business opportunities. True to its reputation, I found Surat to be an enterprising city. After a few years, I started 'Multifabrics Corp' with an aim to cater to the fabric requirements of clients across India.
GL: You have a successful offline and online business. How do you stay ahead of the curve in a competitive business environment?


Vikram: In this evolving business environment, one has to be very adaptive to the current trends. From production, to supply, to the last man standing, we have to be very much aware of new technology coming in and also the impact these technologies have on this new business system. E-commerce is the biggest challenge to traditional retailing, and we are preparing ourselves to face these challenges. We are coming up with a unique distribution model and a unique approach to e-commerce to accommodate the last delivery point.
Also read: Alok Vedi & Ruchit Jain, Founders, Growider Media LLP
GL: You are a Linker. How does GlobalLinker assist business owners?


Vikram: GlobalLinker is a very good concept in the current business environment, where we need to be linked to various business associates and services. GlobalLinker provides a wonderful platform for this and the best thing about it is the curated content and other events it organises. I feel all Indian SMEs should join it and make this a place of mutual benefits.


GL: What advice would you give to a new entrepreneur setting up their first business?


Vikram: Take risks, get into making some tangible product, and make that product world-class. The internet has broken all the barriers, and now your product can reach anywhere. Do not just try to earn commission on some absurd service, make something and add value to your motherland.


GL: What is the next big thing on your business agenda?

Vikram: We are coming up with apparels and launching a new portal called makemyuniforms.com


GL: We would love to know the person behind the entrepreneur.


Every day you wake up - 6 am
The first thing you do when you wake up - Drink warm water, hit the gym
Three things you do to unwind/ relax - Watch good shows online, read books, spend time with family and friends
When you face a big challenge - I pause, take out all the negative thoughts about it, look at it from all the different angles, look for solutions to the challenge and work on it with all my conviction.
The best piece of advice you've ever been given - Make your own beliefs and stand by them no matter what
The one book everyone should read - Jonathan Livingston Seagull by Richard Bach
Also read: Vandita Vijayvergiya, Founder, Clay County
Network with Vikram Gandhi by clicking on the 'Connect' button on his profile

Disclaimer: This article is based solely on the inputs shared by the featured member. GlobalLinker does not necessarily endorse the views, opinions & facts stated by the member.
Posted by
Supriya Mathur
As part of the editorial team on GlobalLinker, I shine the spotlight on business owners who are doing exciting and innovative work by featuring them as part of our 'SME...