In the dynamic landscape of Human Resource Management, especially with the introduction of DPDP (Digital Personal Data Protection) Act 2023 in India, CHROs (Chief Human Resources Officers) will be responsible in shaping the workforce of an organisation. Their approach to data management using smarter tools like uKnowva HRMS will come into the picture and how they lead the entire HR operations teams to ensure privacy of each user's data is going to be of prime importance.


Read the post below to know more about the primary responsibilities of CHROs in India to digitally transform and revolutionise data management like never before.


Enhancing Decision-Making Through Data-Driven Insights
Effective decision-making lies at the core of CHRO's responsibilities. In India's rapidly evolving business ecosystem, data-driven insights provide an invaluable edge. By meticulously managing and analysing HR data, CHROs can comprehensively understand employee performance, engagement, and retention trends.
Compliance and Regulatory Adherence
Navigating India's intricate labour laws and regulations demands meticulous attention to detail. Data management ensures compliance and serves as an auditable record of adherence. This mitigates legal risks and establishes the organisation's commitment to ethical practices.
Fostering Employee Well-being and Engagement
A contented and engaged workforce is the cornerstone of any successful organisation. Data on employee satisfaction, feedback, and well-being initiatives can be efficiently tracked and optimised through robust management systems. This empowers CHROs to implement strategies that boost morale and productivity.
Predictive Analytics for Talent Acquisition
Attracting and retaining top performers or talented people in a competitive job market like India is a constant challenge. Data management equips CHROs with the tools to employ predictive analytics. By identifying patterns in recruitment and onboarding processes, CHROs can streamline talent acquisition strategies, ensuring the right fit for the organisation.
Maintaining User and Candidate Data Privacy at All Times
By coaching and mentoring their recruitment teams on the latest laws of the DPDP Act 2023, CHROs get to abide by national rules and regulations pertaining to user and candidate data privacy. They know that candidate data must be used for a limited period and a specific purpose. The same goes for the existing employee data. They can introduce options to request edit, update, and deletion of data from the user/employees' end to the system or HR support team.
Agility in Adapting HR Policies
The business environment in India is subject to rapid shifts and disruptions. CHROs must be agile in tailoring HR policies to align with evolving organisational needs. Data management facilitates this process by providing real-time/actionable insights into the effectiveness of existing HR/workplace policies and highlighting areas for refinement.
Optimising Resource Allocation
Resource optimisation is paramount for organisational success. Through data-driven analysis, CHROs can allocate resources judiciously concerning training and development programs, benefits packages, or recruitment drives. This strategic approach ensures that resources are channelled where they are needed most.
Conclusion
In the dynamic landscape of HR leadership, CHROs in India can significantly elevate their impact by embracing robust data management practices. The benefits range from informed decision-making to compliance assurance and talent optimisation. CHROS must recognise that in today's data-driven world, effective management of HR data is not a choice but a strategic imperative. By doing so, they position themselves as true architects of organisational success.


Want to know more about the role of DPDP Act 2023 in driving success and transparency in the HRD? Request a call back from an expert.
Join a webinar on Thursday, 14 September 2023 at 4:00 PM (IST) with industry experts and discover various ways HRMS software can transform your organisation, regardless of its size or sector. Register Now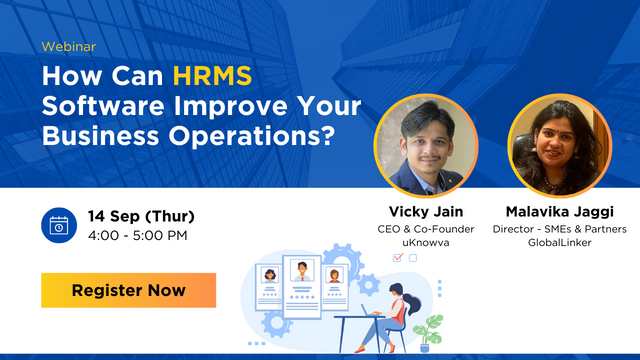 Disclaimer: The views and opinions expressed in this article are those of the author and do not necessarily reflect the views, official policy, or position of GlobalLinker.
Posted by
Nilakshi Garg
I am a content writer/strategist at uKnowva.