Enterprise: Amith Marble & Tiles Pvt Ltd
Founders: S N Agarwal & Amit Agarwal
Industry: Retail
Year it was founded: 2001
Location: Kolkata
To describe S N Agarwal as a serial entrepreneur would be no exaggeration. In the mid 80's, Kolkata-based Agarwal was part of his family's marble and granite business. Burning with entrepreneurial zeal, he went on to establish several other manufacturing businesses including a unit in Tamil Nadu for making duplex paper board, two oil refinery units, a washing powder venture, producing ball safety matches, until finally establishing Amith Enterprise in 2001.


With Amith Enterprise, S N Agarwal decided to leverage his rich knowledge of the marble and granite sector and this time his son, Amit Agarwal, also joined forces with him. The father son duo has established retail stores under the brand name 'Amith Mart' that feature a range of stone slabs, tiles, sanitary ware, and décor items to elevate a house to a 'Home Sweet Home' status. With turnover of 19.78 crore in 2019-20, three popular stores in Kolkata and a goal to have 300 stores pan India by 2030, Amith Mart has built a solid foundation for future growth.


In conversation with GlobalLinker (GL), Amit Agarwal (AA) shares their business journey — how they have overcome the challenges of being part of an unorganised sector and the more recent pandemic, to emerge stronger and more relevant.


GL: What was your motivation to start the business?
AA: We started with the intent to provide immediate supply of marble and granite to the doorstep of customers along with the finest product range for homes. We are solutionists — we not only provide products like marble, tiles, CP, and sanitary ware, we also offer complete solutions for kitchens, flooring, bathrooms etc. Our retail stores fulfill the purpose of being 'Home Beauticians' and our expert team provides customised solutions as per the taste and budget of each customer.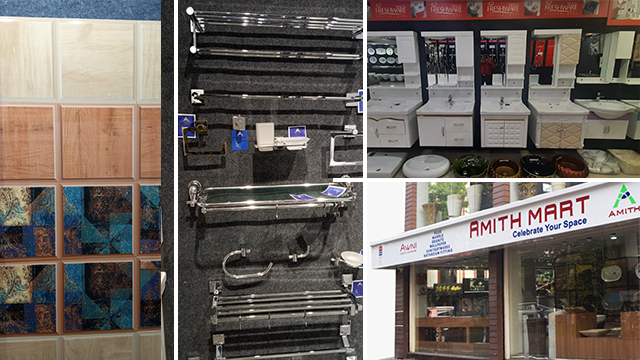 GL: Share some of your significant business milestones.
AA: We started with a small stockyard of 1000 sq ft and an office space of 500 sq ft. From a product basket initially consisting primarily of marble and granite, we have expanded our range significantly, and now have a stockyard of 70,000 sq ft.


From Amith Enterprise, a partnership firm, we grew to Amith Marble and Tiles Pvt Ltd and now our retail chain, Amith Mart International Pvt Ltd is leading the way. Our fourth and fifth retail stores will be opening soon. We have launched our own product brand 'AWNI' in all our retail stores and business channels. We have also started importing products to meet the requirements of our elite customers.
GL: What are some of the effective ways of raising awareness about your business?
AA: Marble and granite are natural stones and available in many varieties with different price ranges according to the thickness, colour, solidity, and appearance of the stone. Knowledge about these stones is limited at customer level and dishonest traders have taken advantage of the same.

We believe in offering the best product at affordable price range with clarity and product knowledge and also guide customers on maintenance process. Through our campaign 'Sharmaji se sikhe', customers can raise any question about our products and facilities, and we provide the solution. We empower our team with continuous training so that they can deliver the right information and knowledge to our customers.


Our retail stores fulfill the purpose of being 'Home Beauticians' and our expert team provides customised solutions as per the taste and budget of each customer.
GL: What are the challenges in your sector?
AA: The building material industry is an unorganised sector. There is huge opportunity in our industry, but in a very scattered way. In our company, we manage all the financial transactions in writing and maintain all compliances as per government guidelines. Being compliant comes at a cost and our product price becomes higher than others. Other players in the industry are not aligned with government guidelines and we therefore face a big challenge to offer quality products at a competitive price range.


But we believe that in the long run, having proper processes in place will be beneficial to our growth.
GL: What has been the impact of Covid-19 on business?
AA: Covid has shown us some dark days that we never imagined before. Like many others, we also faced challenges, as we are not from the essential commodity industry. But we survived and new hope and zeal is showing us the road ahead.
From day one of lockdown, we have taken various steps for survival. We also believe in 'survival of the fittest' so we view this crisis as an opportunity to build on our strengths.

Some of the steps we took during the pandemic include:
Abided by all the rules and new normal policies as per by the Central and State Government.
Managed business meetings and decision-oriented tasks online as much possible.
Took drastic hygiene and social distancing policies for door-to-door delivery for emergency requirement.
Prioritised the wellbeing of every team member, customer, and all other stakeholders and extended help where required.
Planned and focused (with core management team) on the upcoming situation and made new roadmap for managing the situation.
Minimised expenditure as much as possible according to the suggestions of our core team.
Covid has made us more tech savvy than ever before. We have started using different softwares to collect data and have started managing various tasks remotely using technology. We are venturing into eCommerce sales shortly as we realise that with technology we can serve customers better.
GL: What is your leadership style?
AA: I believe that God is the only leader of this universe and he has selected me as the architect to create something new for this industry. I am a people's person, and I highly appreciate my team. Transparency and honesty are the thumb rules for us. For me, every stakeholder is like a family member of Amith group.
I believe that upgrading ourselves on a daily basis is required because the world is changing rapidly. We provide soft skill and on-the-job training to all our team members so that they can provide sustainable and useful service to all customers. Team members are not mere employees for me; they are growth partners of our company and also happy family members.


GL: Your advice to a new entrepreneur?
AA: For any startup, first the mental stability to do something new and perseverance towards a goal is required. Then comes proper short-term and long-term vision, financial planning, product research, forecasting on the market scenario and succession planning.
To sustain in the market, one must be ready to taste failure, but it's very important to know the rules of survival too.


Quick bytes with Amit Agarwal


Wake up time: 6 AM in the morning to get unexpected blessings and sudden miracles.
The first thing I do when I wake up: Give a big thanks to the almighty and rub my hands to get the best for the day and take the warmth of the rubbed hands on my face. It helps me to be more thankful to every creature of God.
To unwind: I push myself to be fit enough physically, live my life to the fullest and take care of all my family members (be it at home or work)
When I face a big challenge: I close my eyes and concentrate on the solution. By the grace of God, any challenge brings the best out of me.
The best piece of advice I've ever been given: Life is beautiful, so live life to the fullest and empower other beings.
The book everyone should read: 'The Secret' and 'Blue Ocean Strategy'
Also read: This SME grew by diversifying from essential oils to daily-use Ayurvedic products

Network with Amit Agarwal by clicking on the 'Connect' button on his GlobalLinker profile.

Article source: STOrai Magazine


Disclaimer: This article is based solely on the inputs shared by the featured member. GlobalLinker does not necessarily endorse the views, opinions & facts stated by the member.