Enterprise: OSK Cadenza Advantage India
Proprietor: Hemlata
Industry: Beauty, Cosmetics & Personal Care
Year it was founded: 2015
Location: Faridabad, Haryana


It may be a little-known fact that India is one of the leading exporters of human hair. USA, Canada, Hong Kong, Brazil, France and Italy are among the top markets for human hair from India. Leveraging this opportunity, Hemlata founded OSK Cadenza Advantage India in 2015, to supply raw virgin Indian human hair extensions in the international market.


Hemlata shares her business journey in conversation with GlobalLinker (GL).


GL: Tell us how you started your export business?


Hemlata: I have a management degree in international marketing from IIFT. I worked for 10 years in export houses where I learned about natural human hair extensions and got exposure to the US and European markets. After extensive research, I launched my own export business in 2015. My brand 'Cadenza Hair India' globally supplies 100% virgin human hair extensions, clip-on extensions, ponytails, tape-ins, closures and wigs and other hair extension products with a production capacity of 200 kg per month.
Participating in international exhibitions is a good medium to get exposure and meet clients directly. Innovation is the key to maintain an edge over competitors.
GL: What is your business USP?


Hemlata: Cadenza Hair India has invested heavily in international market research and we focus on sourcing good quality, large variety and cheaper hair. We travel to south India and participate in auctions where hair is sold through temples. Therefore, we guarantee competitive prices to importers and wholesalers of human hair in the international market. We provide regular training and skill development of employees and follow environment-friendly measures for the disposal of waste hairs.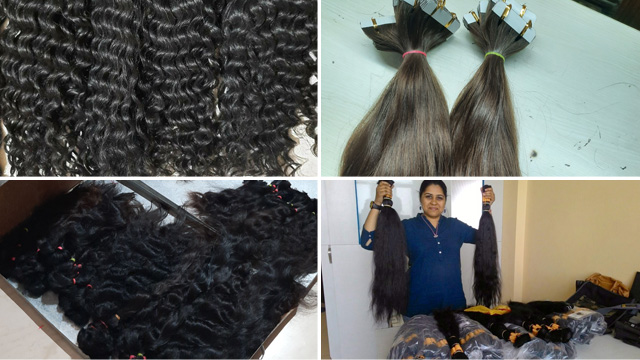 Also read: Nitika Basak, Director, Svanks Projects


GL: What challenges did you face?


Hemlata: Initially, it was difficult to find countries and markets to place our products and FIEO helped us greatly to identify markets. Raising finances was also a challenge and in this regard MSME schemes by the government helped us with grants. Pricing too was a challenge as China supplies processed human hairs at cheap prices. But we found that European countries look for high quality and durable Indian human hair and are ready to give a good price for our product.


Here I must say, FIEO (Federation of Indian Export Orgnaisations) is a platform, where women entrepreneurs like me can benefit greatly from various schemes launched by FIEO and get to participate in exhibitions at subsidised rates with access to the international market.


GL: What are your tips for market expansion?


Hemlata: Participating in international exhibitions is a good medium to get exposure and meet clients directly. Innovation is the key to maintain an edge over competitors. So, we keep on improvising and make new ready to wear hair extension products like clip-on highlight extensions, highlighted tapes to name a few. We do video chats and regular interactions with customers thus giving them an exposure to brand India as our company prioritises not only sales but also being a global ambassador for the country.


GL: Your big business dream?

Hemlata: To make Cadenza Hair India a well-known brand in the international market and open Cadenza Hair Stores for selling and installing human hair extensions across the globe.

Also read: Aisha Moin, Director, Sarah Exim Pvt Ltd


Network with Hemlata by clicking on the 'Connect' button on her profile.


Disclaimer: This article is based solely on the inputs shared by the featured member. GlobalLinker does not necessarily endorse the views, opinions & facts stated by the member.
Posted by
Supriya Mathur
As part of the editorial team on GlobalLinker, I shine the spotlight on business owners who are doing exciting and innovative work by featuring them as part of our 'SME...