The MSME sector is an important pillar of the Indian economy as it contributes greatly to the growth of the Indian economy with a vast network of around 6.3 crores MSMEs, creating employment of about 11 crores, manufacturing more than 6000 products, contributing about 45% to manufacturing output, and about 40% of exports, directly and indirectly. There was a long pending demand from the sector to redefine the MSME definition. The Government of India has redefined MSME classification from 1 July 2020 as follows: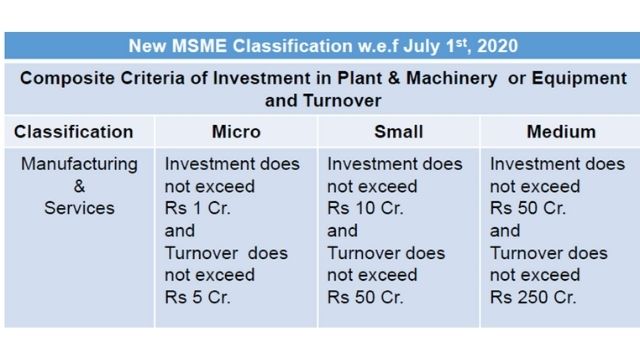 A composite criterion of investment in Plant & Machinery or Equipment and Turnover, as detailed in the matrix above, shall apply for classification of an enterprise as micro, small or medium.

The criteria are applicable to enterprises for both manufacturing and services sectors.

If an enterprise crosses the ceiling limits specified for its present category in either of the two criteria of investment or turnover, it will cease to exist in that category and be placed in the next higher category, but no enterprise shall be placed in the lower category unless it goes below the ceiling limits specified for its present category in both the criteria of investment as well as turnover.

All units with Goods and Services Tax Identification Number (GSTIN) listed against the same Permanent Account Number (PAN) shall be collectively treated as one enterprise and the turnover and investment figures for all of such entities shall be seen together and only the aggregate values will be considered for deciding the category as a micro, small or medium enterprise.
Udyam Registration
The Government has organised a system to facilitate the registration of MSMEs. An enterprise for the purpose of this process will be known as Udyam and its Registration Process will be known as 'Udyam Registration'. A permanent registration number will be given after registration.
After completion of the process of registration, a certificate will be issued online. This certificate will have a dynamic QR Code from which the web page on the Portal and details about the enterprise can be accessed. There will be no need for renewal of registration. Registration Process is totally free of cost.
Single window systems at Champions Control Rooms and at DICs will help in the process.
Any person who intends to establish a micro, small or medium enterprise may file Udayam Registration online in the Udyam Registration portal, based on self-declaration with no requirement to upload documents, papers, certificates, or proof.
Basic Features
MSME registration process is fully online, paperless, and based on self-declaration.
No documents or proof are required to be uploaded for registering an MSME, only an Aadhaar Number will be enough.
PAN & GST linked details on investment and turnover of enterprises will be taken automatically from Government databases.
The online system will be fully integrated with Income Tax and GSTN systems.
PAN and GSTIN would be mandatory from 01.04.2021.
Erstwhile EM-II or UAM registration or any other registration issued by any authority under the Ministry of MSME, will have to re-register under Udyam Registration.
No enterprise shall file more than one Udyam Registration. However, any number of activities including manufacturing or service or both may be specified or added in one Registration.
Also read: New definition of MSMEs & Udyam registration
Web address for Udyam Registration

If you are an MSME in India, you may register on this link -- https://udyamregistration.gov.in/Government-India/Ministry-MSME-registration.htm
This new online system of MSME/Udyam Registration is a totally seamless process and stands the test of time and technology. More than 11 lakh MSMEs have already registered since its launch on 1 July 2020. It is strongly advised that new registrations must be done before 31 March 2021. A word of caution— MSMEs should register only on the Udyam Registration government portal and be careful of fake sites.
Benefits of Udyam Registration
There are numerous benefits of Udyam registration and getting a Udyam certificate for your business. Listed here are some of the top benefits.
Interest rate Subsidy on Bank loans
Collateral free loans from banks
Protection against delayed payments, against material/services supplied
Special beneficial reservation policies in the manufacturing/ production sector
Ease of obtaining registrations, licenses, and approvals.
MSME Registered entity gets eligible for CLCSS (credit linked capital subsidy scheme)
International trade fair special consideration
Government security deposit (EMD) waiver (Useful while participating tenders)
Electricity bills concession
Stamp duty and registration fees waiver
ISO certification fees reimbursement
Direct tax laws rules exemption
NSIC performance and credit rating fees subsidy
Patent registration subsidy
Barcode registration subsidy
Industrial Promotion Subsidy (IPS) Subsidy Eligibility
To explore business opportunities, link with me by clicking on the 'Connect' button on my eBiz Card.
Source: eBook of Schemes for MSMEs & Annual Report MSME 2020 - 2021

Image source: freepik.com
Disclaimer: The views and opinions expressed in this article are those of the author and do not necessarily reflect the views, official policy or position of GlobalLinker
Posted by
Vatsala Mishra
I look after activities relating to MSME, Retail and Design Sectors in the Industries Department. Currently working on various initiatives for supporting growth of MSMEs such as...