Businesses are built on the vision, passion, sweat and toil of its founders. Apart from having a viable product, a comprehensive business plan, sound financial strategy and competent team, start-ups need to ensure that they are built on a solid legal footing.


Here are five essential legal tips for start-up entrepreneurs.


Tip 1: Form a Private Limited Company
People all over the internet will advise you to choose the right kind of structure, which is vague, because there are numerous kinds of entities that could be formed, but the point of confusion always remains. That is, which kind is most suitable for a start-up— the answer to that is private limited company. Why? Because it is the most structured form of doing business and most importantly it is the favourite form of entity for potential/future investors.


Key Takeaway: The Start-up India scheme, recognises private limited company as a form of entity which can be recognised as a start-up as per the Department of Industrial Policy and Promotion (DIPP) guidelines.


Tip 2: Co-founders' Agreement
Minimum two persons are required to form a private limited company. If the other person is your relative, then this tip may not be applicable to you. But it can prove to be useful in the future. For others, co-founding a start-up is easy, but arguments, disagreements and ego clashes are bound to happen, there is no escape. Hence, it is suggested to be safe than sorry. A co-founders' agreement, solves two issues:


1. There shall be clarity about the expectations the founders shall have from each other and it can be referred to in case of disagreements.
2. The scope of work for each founder shall be clearly defined.

To get a fair idea about what terms are covered in a co-founders' agreement, you can go to 'Google' and browse through a few agreements. Although, it is advised to get it drafted by a legal professional; artificial intelligence is currently not that intelligent in legal advice and human behaviour.


Key Takeaway: Following this tip will help you avoid unnecessary litigation expenses and hurtful dead-ends.


Tip 3: Confidentiality and Non-Disclosure Agreement (NDA)
No, it is not a toothless tiger and no, everyone is not your friend who will keep everything confidential. Always remember the efforts you have put in thinking about the product and manifesting it into reality, now imagine someone copying it. It will be disastrous emotionally and financially. Get one NDA template made and use it time and again before disclosing about your product or sensitive details about your start-up. I am not suggesting that you send an NDA to a potential investor before you send them a pitch deck, which will be embarrassing. But, in day-to-day dealings you will be required to share certain confidential and sensitive information, with probably a strategic partner or a marketing consultant or an ad agency. Ensure to get the NDA signed first and then proceed with the conversation.


Key Takeaway: I do not intend to be cynical, but people cheat and misuse information. Executing an NDA will protect you and your start-up from current and potential threats.


Tip 4: Get Start-up Recognition
No rocket science here, and most importantly it is free. Go to the DIPP website and register your company as start-up. You can register your business with several government initiatives like Start-up India, Invest India, Udyog Aadhaar. There are certain benefits for recognised start-ups like 80% reduction in cost of filing patents. Recognised startups can apply for government tenders since they are exempted from the 'prior experience/turnover' criteria applicable for normal companies.


Key Takeaway: Start-up recognition in addition to providing benefits also provides an edge over other established companies.


Tip 5: Intellectual Property Protection
It is not necessary that your product is unique and patentable. But, this could be said certainly that the name/logo of your startup or brand of your product shall be unique. Names and logos are covered as trademarks and it is advised to get trademarks registered to protect your brand identity and prevent the same from being copied. You could be the next Reliance or Apple or maybe Tesla, but failing to get trademarks registered can jeopardise your brand identity and value.
Key Takeaway: Protect it before you lose it.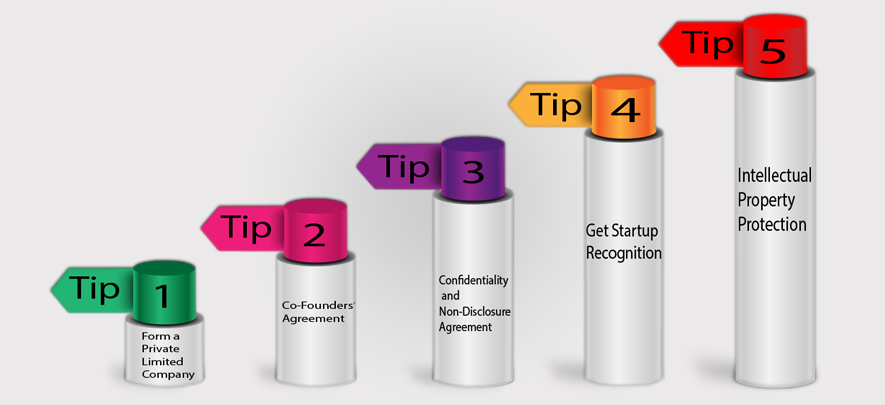 To explore business opportunities, link with me by clicking on the 'Invite' button on my eBiz Card.

Disclaimer: The views and opinions expressed in this article are those of the author and do not necessarily reflect the views, official policy or position of GlobalLinker.
Posted by
Ripple Nagpal
I am looking to connect with other business owners and ready to work around the referral models for mutual benefit. Invite me to connect