Are you struggling to keep hold of your sales amid prolonged lockdowns? If that's the case then this article is for you!
Whether you're a business owner or a working professional, I'm sure it's been very difficult to keep the sales up. But don't worry! It's not just you. The coronavirus outbreak has thrown many businesses into a state of turmoil and uncertainty.
However, it is essential to adapt to the situation and market your business, to stay relevant and accessible to your consumers.
While many businesses have seen their sales plummet over the past few months, some businesses are continuing to generate sales and engage with customers. And how are they doing that? The answer is digital marketing.
Spurred by COVID-19, businesses are increasingly adopting digital marketing strategies to survive in the market while most sectors have come to a near-complete halt.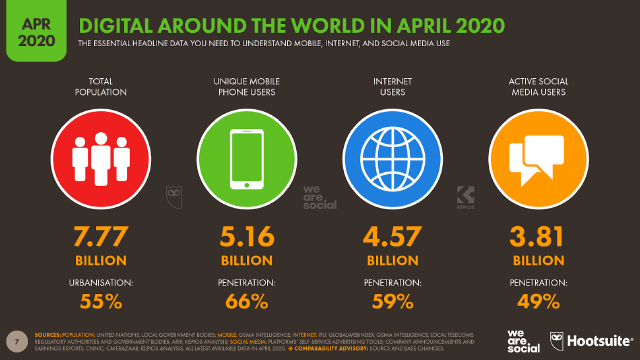 Source: EduBirdie

With digital marketing being the only likely solution to realistically reach your consumers and boost your sales, you will need the best digital marketing strategies on your side.
But, which strategies are best for your business and are still relevant to consumers in today's scenario?
After consulting with the leading practitioners of the industry, we've enumerated three such digital mediums that you can leverage to increase your sales. And they are:
1. Search Engine Optimisation (SEO)
SEO is a practice of optimizing a company's website so it ranks organically on the first page of a search engine (Google, Bing, etc). When done right, SEO can funnel new consumers to your website day and night.
For example, if you own a catering business in Mumbai, you would want to rank for the keywords your consumers are most likely to search on Google to look for your services. You should aim to rank on the top 3 slots of a search engine's result page (SERP), as people are more likely to click on them. Here, we have wedmegood.com ranking first, for the keyword 'best catering services in Mumbai'.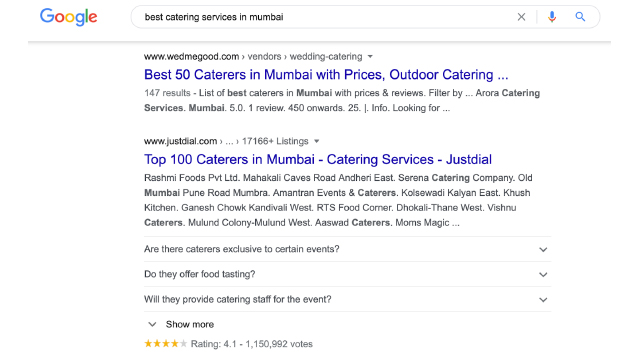 Despite the current pandemic, digital marketing efforts especially SEO should not be discontinued, more so for small scale to medium scale businesses. Here are a few statistics are given by Hubspot to help you understand why it matters:
93% of online actions begin with a search engine

75% of users don't scroll past the first page of a search engine's result page

60% of organic clicks go to the first 3 organic search results
How SEO Will Help You Boost Your Sales
With most of the world's population currently indoors, everyone is spending their time online. Even the consumers who previously did not prefer making any online purchase, are now seeking for products or services online. Therefore, through sustained SEO practices you have better chances of attracting potential consumers and a whole new segment of consumers every day.
By driving your potential customers to your website, you can increase your businesses' visibility and reach online. More importantly, it will help you boost your sales by driving more traffic to your website, thereby, providing you with more opportunities to increase your conversion rates.
Do you wish to add SEO to your digital marketing strategy?
Here's a quick yet thorough 2-hour Online SEO Course for beginners to help you enhance your businesses' performance online.
Also read: How SEO can help your business grow its online presence
2. Search Engine Marketing (SEM)
SEM is the practice of ranking a businesses' website on a search engine's result page through paid efforts. To do so, businesses bid on keywords their potential consumers search for on search engines like Google when looking for their products or services.
If you own a courier service, for example, you can use SEM to increase your chance of ranking first by bidding on relevant keywords like 'courier service in Mumbai' or 'best courier services in Mumbai'.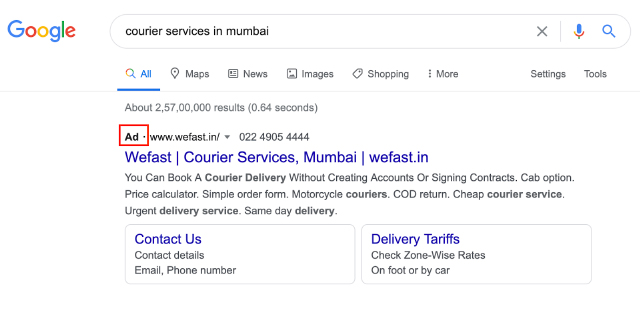 With the help of SEM and SEO, you can drive quality traffic to your website and become more visible to consumers actively looking for your services.
As mentioned earlier, with more than ever people online, the chances of your ads paying off are very high. Here are a few statistics to help you understand the overall importance of SEM efforts:
51% of shoppers use Google to research before making a purchase online

The global B2C e-commerce sales will reach $4.5 trillion by 2021.

Search engine ads increase brand awareness by 80%

Businesses on an average, make $2 for every $1 they spend on Google Ads
How SEM Will Help You Boost Your Sales
SEM practices will help you increase your visibility on the Internet's main platform — Google. SEM is a powerful way to attract consumers ready to purchase at that very moment.
SEO efforts coupled with SEM practices will help your business achieve higher search rankings through platforms like Google Ads. And, in return, Google Ads will place your ads in front of consumers most likely to convert when they click on your ads. Thereby, boosting your sales.
Google handles over 60,000 search queries per second, they are undoubtedly the dominating players of the internet. That's why businesses across the world create their SEM campaigns on the Google Ads platform.
Do you think you can leverage the right SEM strategy to boost your sales?
If yes, I'd recommend you to check out this Online Google Ads Course that will help you create cost-effective campaigns in just 3-hours.
3. Social Media Marketing
Social media marketing is a practice of using relevant social media platforms to connect with your target audience and promote your businesses' products and services. It involves establishing a social media presence, sharing creative content, engaging with your consumers and running social media advertisements.
Here's an example of how Zomato uses quirky social media posts and advertisements to increase their customer base and keep their consumers engaged with relevant content.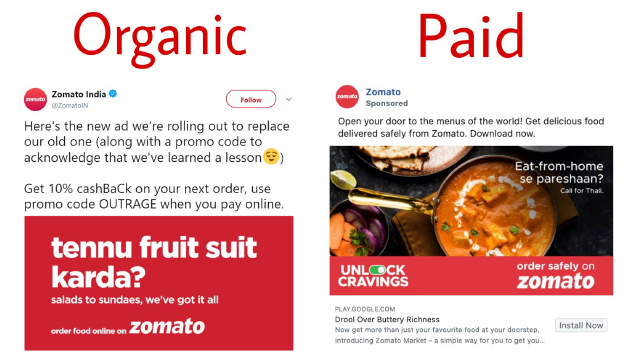 According to a recent study, there has been an 87% increase in social media usage since the lockdown. And if that's not a compelling enough reason for you to add social media marketing to your arsenal, then here are a few more statistics to help you understand why it matters:
Instagram provides the second-highest ROI among marketers

As of the first quarter of 2020, there are 2.6 billion monthly active Facebook users

90% of Instagram users follow business profiles

Users are 26% more likely to view ads on Twitter

66% of users 'like' or 'follow' a brand on Facebook
How Social Media Marketing Will Help You Boost Your Sales
Internet usage has skyrocketed since the lockdown. With most of your consumers engaging on social media platforms, a business should have a robust online presence. In social media marketing, there are two forms of marketing: paid and organic.
Organic social media marketing deals with the relevant posts businesses share on their social media profiles. These activities mainly help in building brand awareness and in creating favourable relationships with consumers. Which ultimately results in customer satisfaction and customer retention.
Whereas paid social media marketing deals with advertisements on social media platforms where businesses promote their products or services. You can do so by using platforms like Facebook Ad Manager.
Social media marketing might sound a little daunting in the beginning, but with the right guidance, you can increase your sales and drive traffic to your website in no time.
Do you want to multiply your ROI by 3x?
Here's a comprehensive 3-hour Facebook & Instagram Ads Online Course on how to run effective campaigns using Facebook Ad Manager.
Bottom Line
If you're starting fresh in digital marketing, I'd recommend you to start by getting your SEO strategies in place as the intent is the highest and cost is minimal. Please note that SEO takes around 6 months to 1 year to show good results. So in that case, along with your seo strategies, I would suggest getting started with the SEM Ads. And, then you can focus on paid social media marketing activities by pushing remarketing ads as the audiences here have a lower intent in making a purchase.
Now is an ideal time to embrace digital marketing and get back on your feet. Digital marketing doesn't require a heavy investment, and it provides innovative ways for you to increase your sales. Regardless of the current situation, these three digital channels will definitely help your business to continually grow in the long run.
Also read: 5 basic skills will determine how much you sell

Image Source: Shutterstock; Karan Shah, CEO IIDE
To explore business opportunities, link with me by clicking on the 'Connect' button on my eBiz Card.

Disclaimer: The views and opinions expressed in this article are those of the author and do not necessarily reflect the views, official policy or position of GlobalLinker.