According to a survey by The Radicati Group, an average of mails sent per day globally is expected to rise to nearly 319.6 billion! Needless to say, mails are an entrenched part of a businessman or entrepreneurs' everyday life as well. But how many of us actually realise the importance of our email signatures? Do you realise that you can cleverly make use of that that little extra space at the end of your email signatures to market ideas and promotions?


Let's understand how we can utilise the power of this smart yet understated marketing tool.


What is an email signature?
An email signature is the part of the mail text that comes right after 'Best Regards', 'Thanks and Regards' and the like. It states your name, designation, your contact details and other marketing details (which we shall discuss in the next few points).



Fig: Email signature


Your email signature makes a powerful impact on the person reading it. It informs the receiver of your mail about your company name; it educates people about your brand, generates traffic to your company website and helps grow your connectivity.


What is email marketing?
Email marketing is a great marketing tool especially beneficial for small businesses. It is the simplest and the easiest way to promote your products and services. It not only helps you with endorsing your business but it also helps build a deeper relationship with your valued customers. And email signature is a subtle way to gather eyeballs for an upcoming event or create brand awareness about your business or promote a marketing strategy.


GlobalLinker eBiz Card feature
When you create your business profile on GlobalLinker, you can share it using your eBiz Card. The eBiz Card is the email signature that you can use to market products and events.


Following are the steps showing where you can find your eBiz Card and how you can use it in your email signature:


1. Log in to your GlobalLinker account.

2. Go to your profile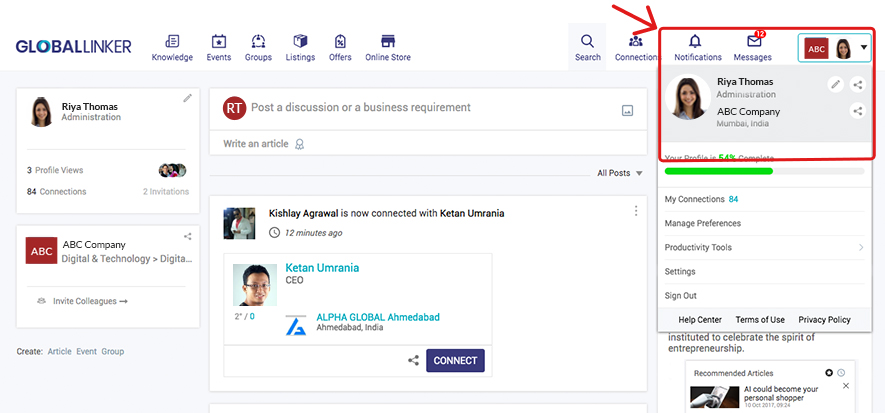 3. Scroll below to find two options for sharing your business profile. Choose the one marked with a red arrow. That is your eBiz Card.


4. Click on the 'Copy Link' option and your eBiz Card gets copied automatically.

5. Go to your Gmail account and log in. Once you log in, you will be able to see a settings icon on the top-right corner of the page, as shown in the image below.




6. Once you click on the 'settings' option you will be taken to the settings page where you can paste the link that you had previously copied on your GlobalLinker account in the 'signature' option.



Note: you can change the links, company name, or any other attribute as per the marketing campaign. You can paste easy links to redirect the readers to any specific page.


Also read: 7 best practices to maximise your business profile's impact

But before you go into your email settings and start marketing, let us understand a few quick points that you need to keep in mind.
1. Clear call-to-action
Make it very clear for your readers to understand what you are trying to promote. Insert easily recognizable and clickable links in your eBiz Card.
If your motive is to drive traffic to your website: Use a link that says something like 'click here', 'view here' or 'register here'.
If you want to increase your social media following: You can insert two or three social media icons so that people can click on them and view your profile and connect with you.



Fig: Classic way to market upcoming events using email signatures


As you can see in the image above, the email signature has been used to market the recent webinar on 'selling online strategies' that is going to take place on 9 August 2019. An easy link to view the event and register for the same has also been added making the signature so much more versatile. Your email signature is not a place to add lengthy sentences. It needs to be concise and crisp. Combine few words to form a meaningful call-to-action.

Also read: Marketing in a Digital World: Are you ready to step up to the challenge?


2. Get your entire team on board
To give your email marketing a professional feel, get your entire team to use good signatures. This is also a great way to promote an upcoming event. You can get everyone in your organisation to promote the same event. This will help generate more traction to the event.


3. Measure the impact of your email signature
The best way to assess if your email marketing is doing the trick is by measuring the impact of the email marketing. You can use a trackable URL and embed that link in your email signature. This way you would be able to know if your marketing campaign worked.


4. Keep updating
Update your email signatures periodically to see if a better re-designed email signature can improve the metrics you're measuring through the trackable URL.
Now you know how powerful this simple tool is. Learn to use them effectively to get the maximum out of it.


Also read: How to improve your digital profile in an hour? 7 easy hacks


Image source: shutterstock.com
Posted by
GlobalLinker Staff
We are a team of experienced industry professionals committed to sharing our knowledge and skills with small & medium enterprises.