"Your network is your net worth" – Porter Gale


It is true that networking is one of the strongest armors that will help you brave the tough competition and remain relevant in this fast paced digital world. If you believe that once you build a company your clients will automatically fall on your doorstep, any successful businessman will tell you otherwise. Building a strong business takes a lot of time and patience and networking with the right people at the right time can help you achieve your goals and keep you motivated.


This brings us to today's topic – How can you utilise the 'Community' feature on GlobalLinker to build and strengthen your network?


Also read: 5 tips to leverage online networking for your business growth


Community feature on GlobalLinker
GlobalLinker, as the name suggests, is a platform committed towards making networking simple for small and medium sized businesses across the globe. The Community feature on GlobalLinker is specially curated to house all your GlobalLinker connections, invitations, messages and groups, all at one place.


Let us look at each of the features:


1. My Connections
'My Connections' on GlobalLinker is similar to your friends list on any of your social media handles. It shows the eBiz Cards of all the members you are connected with in an alphabetical order.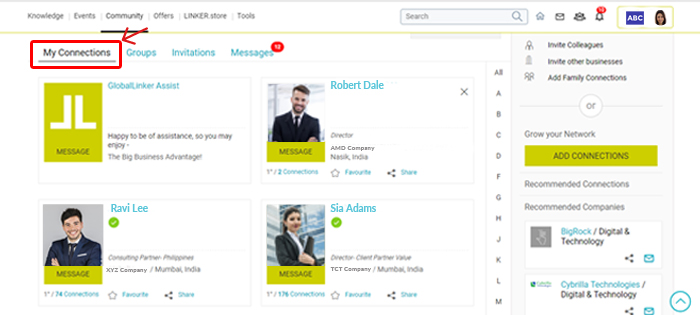 2. Groups
The next tab on the Community feature is Groups. Each Group is dedicated to one particular subject matter. There are various industry and domain specific groups you can join. You can even create one by clicking on the 'CREATE GROUP' button on the top right of the page.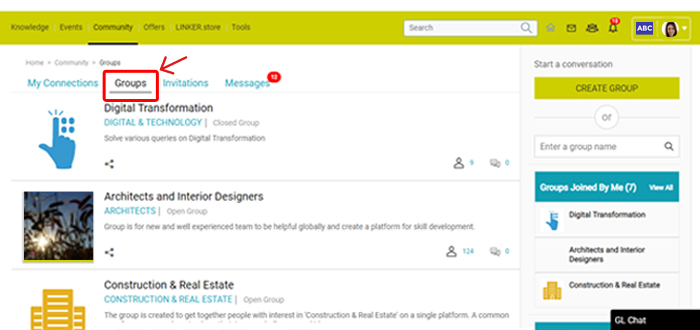 The Groups feature is a great way to exchange knowledge in a particular industry or domain. You can join and share various groups like Digital Transformation, Architects and Interior Designers, Retailers association of India, Construction and Real Estate, WEBO Power-powering women entrepreneurs and business owners and so on. You can post your thoughts, articles or news in the groups you have joined. The 'Recommended Groups' feature lets you discover more groups that are created everyday on GlobalLinker. This way you can remain up-to-date on recent happenings and announcements across the world.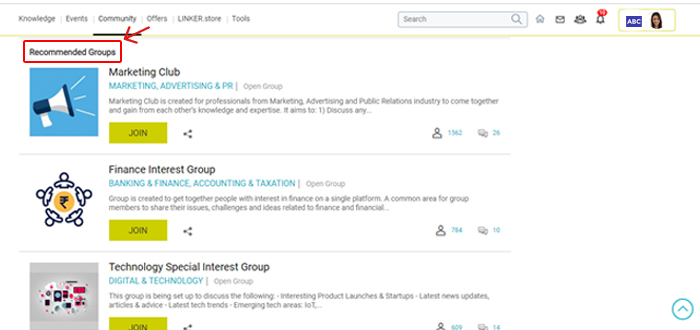 3. Invitations
Invitations is where all new connection requests appear.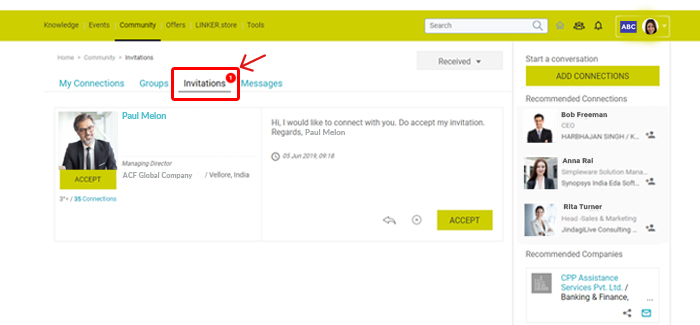 4. Messages
All the messages that you send to fellow members and all the messages that are received appear here.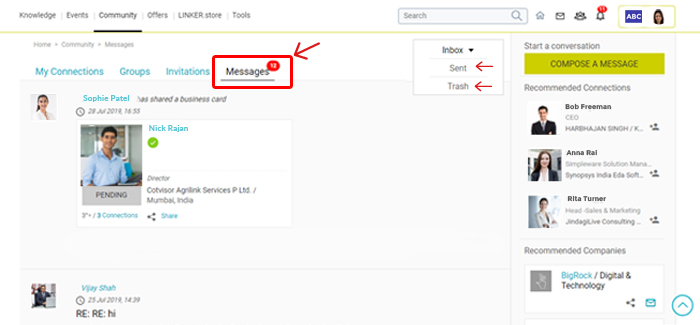 You can access your 'Sent' and 'Trash' messages by clicking on the drop down arrow next to 'Inbox' as indicated in the image above.


Also read: Business networking: Imperative to every entrepreneur's growth


The importance of a strong business network
Now that you know all the features of Community on GlobalLinker, let's understand why networking is so important to grow your business.


Opens up a plethora of opportunities - As you start networking and growing your community you will realise that a host of new opportunities will knock your door and some will perfectly align with your business ideas and vision. You can make use of those opportunities to scale your business.


Gaining customers - A professional networking site such as GlobalLinker helps you build your connections with other business owners and entrepreneurs. This is by far the best benefit of a business networking site. Via these connections, recommendations and word-of-mouth you can connect to hundreds and thousands of other people, some of who might end up becoming potential customers in the future.


Sharing and gaining advice - Professional networking platforms like GlobalLinker is a great way to tap into advice and knowledge that is otherwise difficult to get. It also gives you a great opportunity to connect with like-minded people and share your problems and solutions.


Growing personal profile - A professional platform like GlobalLinker gives you the opportunity to showcase your business and its products and services to the world. Getting noticed automatically helps with marketing your business which would otherwise cost a lot of money. As you grow your profile, you begin to build your reputation as a knowledgeable and reliable person which may also give birth to great friendships in the long run.


No matter which industry you are in, networking is always a great idea to strengthen your business relationships and grow your business influence.


Also read: 7 best practices to maximise your business profile's impact
Image source: shutterstock.com
Posted by
GlobalLinker Staff
We are a team of experienced industry professionals committed to sharing our knowledge and skills with small & medium enterprises.