We live in a competitive world. As a business owner you strive hard to stand out, generate customer interest and gain loyal customers. GlobalLinker is a global network of more than 300,000 SMEs, and therefore increasing your company's visibility on the platform is a key activity for your business growth.
Here is some help on how you can post to increase your business visibility.
1. Post on your homepage feed or post on relevant groups
Post on the homepage if your content is relevant to the entire GlobalLinker community. Post on a Group if it is relevant to a niche industry or interest group.
Homepage Feed
On the top of your homepage, you will see an option to 'Post a discussion or a business requirement'.



Once you start typing a post, a 'Looking for' prompt will appear with tags for:Buyer, Seller, Financing Franchise, Distributor, Agent, and Retailer along with 'Requirement location'. If your post is targeted at any of these categories, by selecting them help your post reach the appropriate audience through GlobalLinker's Artificial Intelligence (AI) driven matchmaking capabilities.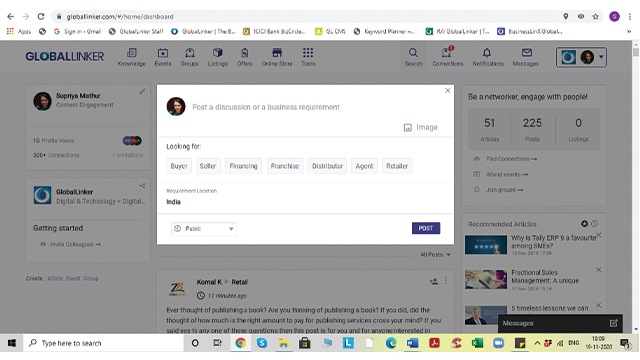 Post to relevant Groups
GlobalLinker has more than 100 industry and interest specific Groups. They give you access to members in a similar business space or with common business interests. Actively engaging and posting on different groups gets your message across to a more focused audience.
Here is an example of the Federation of Indian Export Organisations posting an important update on the Indian Women Exporters Group. Since this communication is only relevant to exporters, it makes sense to post it on a group for women exporters.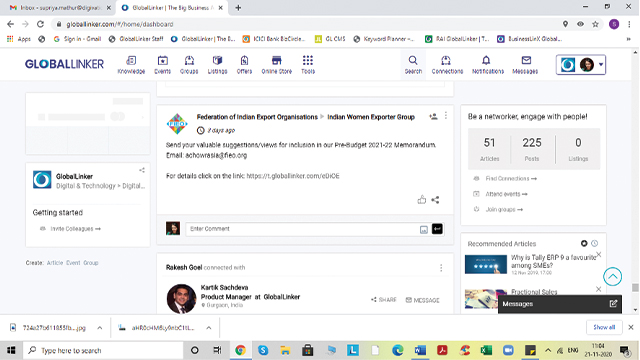 2. Vary the types of posts you put up
GlobalLinker is a business networking platform where you can post about your business – your offerings, what makes you unique, where you are located or a business requirement, be it for Buyers, Sellers, Financing, Franchise, Distributors, Agents or Retailers. You can also share articles that caught your interest and start a general discussion about a relevant topic. Other members will see your postings and if it is relevant to them, they will comment and engage. If they find a potential business match, they will connect with you by adding you to their network and communicating with you via the inbox messages.
3. Follow these tips to reach a wider audience


Increase your network
The more connections you make on GlobalLinker, the more likely you are to receive comments, shares and likes on your posts. Actively participate in discussions; read and comment on articles; check recommended connections, and join interest or industry specific groups to widen your network on the platform.
Keep it short
Online users suffer from short attention spans and prefer information that is easy to scan. Just as you don't like to go through long introductions, information and text, neither do any of the other members. If you are introducing your business or product, make sure the communication covers the essentials but is short and crisp. As your customers are drawn in, they will ask questions, share feedback in the comments section or send you a direct message on GlobalLinker.
Here is an example of a perfectly crisp business requirement post.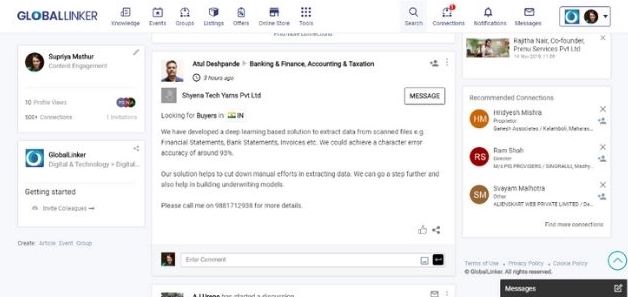 Don't over post

Make sure you post at regular intervals but refrain from posting the same content several times a day or week. When you share the same content too often, members could lose interest in your posts or worse, remove you as a connection.
Maintain decorum

Ensure that your posts are not defamatory or offensive in any way. GlobalLinker is a harmonious community of SMEs, and your priority must be to show the utmost respect to fellow members.
If you are taking the effort to frequently post on GlobalLinker, ensure that your profile is updated. As your visibility increases, more SMEs will visit your profile and depending on how comprehensive your profile is, they will choose to connect with you. Include your business description, company logo, product or service details, website link, awards, and other unique information. You must also verify your company on GlobalLinker so that it is recognised as a legitimate business entity and other SMEs feel confident in doing business with you.
Share your tried and tested tips to make meaningful connections on GlobalLinker.
Also read: 7 best practices to maximise your business profile's impact
Image source: shutterstock.com
Posted by
GlobalLinker Staff
We are a team of experienced industry professionals committed to sharing our knowledge and skills with small & medium enterprises.