As we continue our Women's Week specials prior to Women's Day, we bring to you an insightful article by HR professional and women's issues expert Geet Jalota. Geet sheds light on the phenomenon known as the 'Leaking Pipeline' and lays out the next field of battle for women as they continue on their quest for parity in society and the workplace. Geet analyses this phenomenon which sees women giving way at different points at the pyramid along the way to the top, identifying the first steps towards remedying its effects, and moving on to a more equal world.


Continuing with the theme of my earlier article on the difference between Gender and Sex, this article goes onto explore the linkage of these differences with the sociological hypothesis of the 'Leaking Pipeline'. It is a hypothesis which explains the phenomenon of fewer women getting selected for senior roles as we go up an organisation's hierarchy. If you can visualize an organisation's structure as a pipe which supplies leaders at the top, then this phenomenon of women leaving at various stages ends up with only male leaders at the top. Sweetness has left the pipe along the way.


Because of physiological reasons, Nature has given the power of creating life to the feminine sex. During research for my book 'Have the women left Venus? Decoding gender @ workplace' I found that in India there are four different points at which women leave work. They are listed in the infographic below.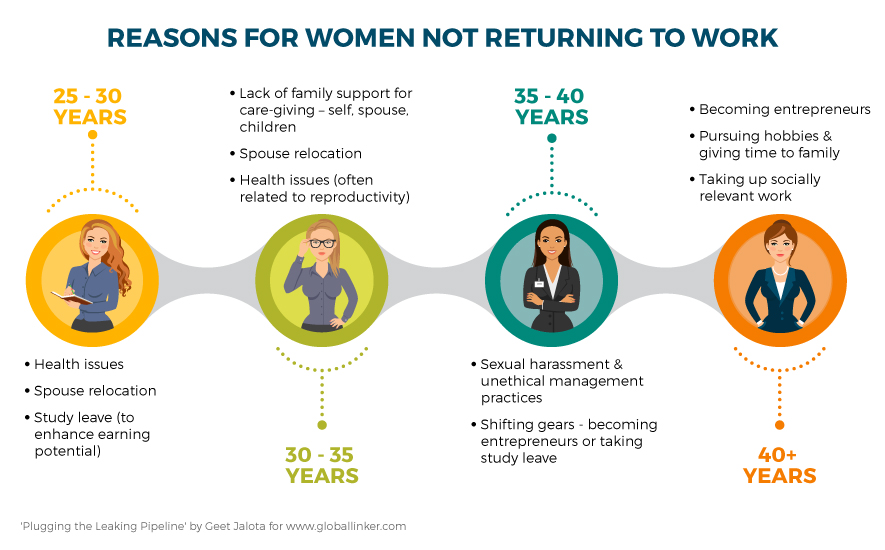 As you can see, a majority of these reasons relate to gender. The assumption is that because women give birth, the responsibility of caregiving falls upon them. In my immediate circle I see that not all women have an instinctive caregiving nature; while some men are gentle and caregiving. I find it a shame that caregiving never came up as a career option for them because nursing, counselling or healthcare would have come so naturally to them. Continuing the same line of thought, I see many women are good at driving goals, accomplishing tasks and growing revenue; but society makes them feel "bad" about such talent. Of course, one way of reversing the trend is by publicly appreciating the men who take over the caregiving responsibility and celebrating women who give wings to their ambition and drive.
'Gender Confidence Gap' describes this phenomenon. It is essentially the tendency to not appreciate women for their ambition. It translates sometimes to an acute lack of confidence and self-doubt that can be seen in women where they don't consider themselves worthy of promotions, underestimate their abilities to handle challenges and pass up growth opportunities because they feel they are not ready for it. Commonly, this is attributed to biology; but recent studies have shown that the causes are social factors that hurt confidence and inhibit their risk-taking abilities.
As I write this, I also speculate whether, perhaps, women reject the narrow confines of silo based vertical career movement and lean more towards a holistic horizontal, amorphous growth. This has huge implications for designing career growth strategies for women. Of course, this point needs to be validated with more research.


Perhaps it is time to look at career progression as an integrated maze of experiences drawn from diverse functions and organisations. Silos only produce a tunnel vision while horizontal mazes will allow a deeper exploration of potential. Rather than confining talent in a tunnel, isn't it time talent decided it's own course?
To explore business opportunities, link with me by clicking on the 'Invite' button on my eBiz Card.
Disclaimer: The views and opinions expressed in this article are those of the author and do not necessarily reflect the views, official policy or position of GlobalLinker.
Posted by
Geet Mala Jalota
Recommend solutions to people performance issues. Set up employee development initiatives which will best achieve organizational goals. Help organizations recruit the right person...