Millions of online shoppers use Google to search for desired products. And this is a huge opportunity for sellers to get found by potential buyers. However, to get the desired results, it's vital to target the right customers, at the right time.
That's where Google Merchant Centre's Smart Shopping campaigns come in. They're specially designed to help you reach shoppers when they're searching for products like yours on Google. You can easily set up the Google channel to your existing eStore to drive more traffic, boost sales, and grow your business.
What is Google Merchant Center?
Google Merchant Center is a Google tool that allows merchants to upload and update information about their products. It is used by sellers to upload product data and then manage their inventory in the Google Shopping system. This product data that includes availability and pricing information is displayed in relevant search queries and Google Shopping ads.


Google Merchant Center has been around for about 10 years now, but it has only been in recent years that it has seen widespread use. This is because the rise of mobile shopping has led to increased demand for more product data from retailers, which was not available before.


Getting started with Google Smart Shopping Campaigns
Shopping campaigns enable you to manage and optimise your Shopping ads to promote your online and local inventory, boost traffic to your website, and find better qualified leads. Shopping ads, which include rich imagery, price, and in-stock status, are served on Google and around the web where current and potential customers can discover your brand. By giving consumers a strong sense of the products you're selling before they click the ad, they're more likely to take action.
Because Google helps you find ways to improve your ads over time and get better results, you can spend your time and energy focusing on what's most important—running your business.
Here's why you must run a Smart Shopping campaign with the Google channel.
Access shoppers across Google
As per a retail survey conducted globally, 75% of shoppers said they used a Google product to aid with their shopping. Smart Shopping campaigns leverage this huge audience potential by putting your products in front of shoppers across Google Search, Shopping, Gmail, YouTube, and the internet. You're thus able to access new customers and also remarket to those who have in the past purchased from you or been to your store.
Allow Google's smart technology to work for you
Smart Shopping campaigns leverage Google's machine learning to boost your ads and show your products to those who are more likely to be interested in your products and buy more. Simply sync your product feed, fix your daily budget, and let Google do the hard work to get the best results and conversions for your campaigns.
Setting up Google Merchant Center
Whether you're new to using Google Ads or a seasoned pro, Smart Shopping campaigns are simple to set up and run. On Linker.store, after enabling Google channel, you can easily connect your store to Google Merchant Center and Google Ads account directly from your Linker.store seller panel. This enables your product feed to sync seamlessly, so your products can appear across Google.
Once your products are synced, you can launch a Smart Shopping campaign and track your sales and traffic. And when you set up a Smart Shopping campaign, your products will also appear in free listings to help you get incremental traffic and reach a wider range of shoppers, at no additional cost to you.
Case Study: LookandAdorn.com
Sumi Bhattacharjee, Founder of Look and Adorn started her online store with Linker.store to bring her Jewellery, Apparel and Bags online and reach customers across the world. So to get her products discovered by shoppers across Google, she enabled Linker.store's Google shopping channel and it didn't take her long to see results.
The campaign drew more than 90% new customers, and has delivered up to 8x return on advertising spend (ROAS) in the last six months. Online sales quickly grew by 60%, with sales from the Google shopping channel accounting for 50% of the business.
She knew that Shopping campaigns provided a highly visual shopping experience, using product images to catch the attention of shoppers. She used Linker.store's Google shopping channel to help sync and manage her product feed. In a few clicks, she was ready to log in to her Google Ads account and set up Shopping campaigns. The results were impressive.
Of all the shoppers the campaign drew to the Lookandadorn.com site, more than 90% were new customers, and the campaigns have delivered up to 8x return on advertising spend (ROAS) in the last six months. Her online sales quickly grew by 60%, with sales from the Google shopping channel accounting for 50% of her business—all without having to manually tend to the campaign. It has also helped increase organic traffic and website rank.
"I really like the fact that the process to setup was so easy. If you have a special product, with a unique look, the returns on Google Shopping campaigns are amazing. The shopping campaigns essentially run themselves and ensure that all the products are achieving a good return," shares Sumi Bhattacharjee.
How to get started?
Here's a simple step-by-step guide to integrate Google Shopping with your ecommerce store
Step 1: Setup your Google Merchant Center Account
Follow the Google Merchant Center Onboarding Guide to setup your account
Step 2: Create a new product feed using Content API option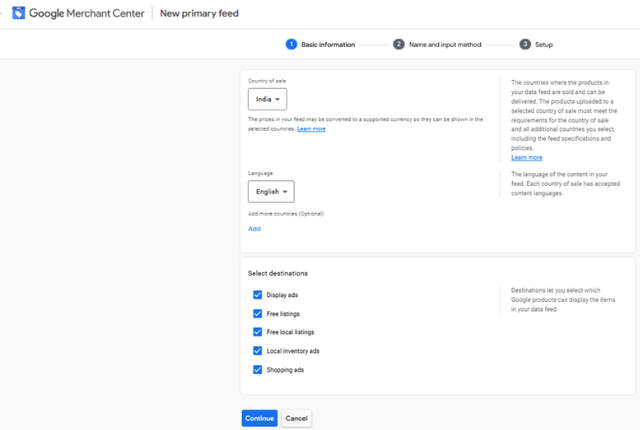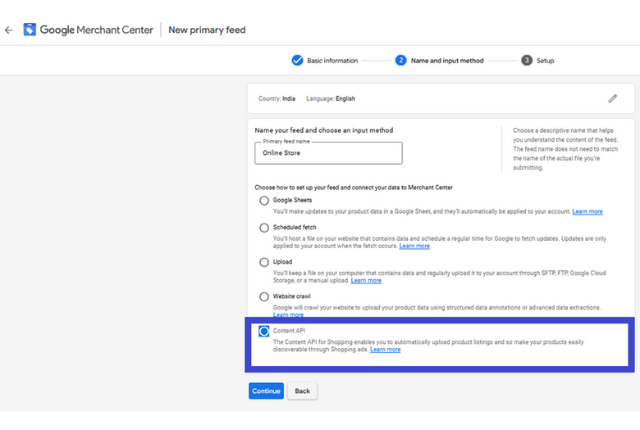 Step 3: On your Linker.store seller panel, go to Store Settings > Online Analytics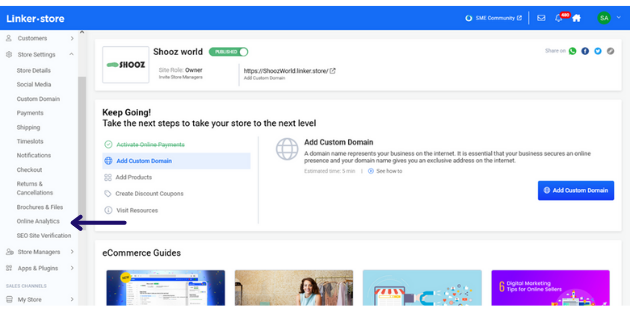 Step 4: Connect to Google Merchant Center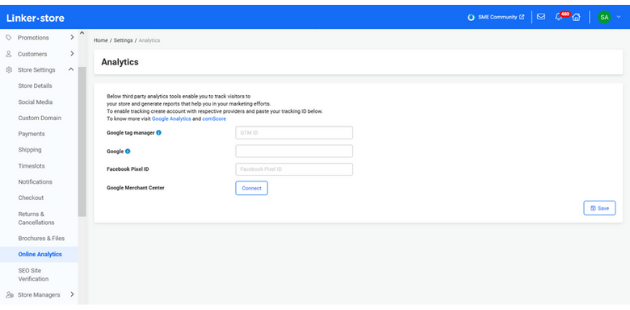 Step 5: Select the Google Account in which you have setup Google Merchant Center

Step 6: Click 'Continue' to allow Linker.store permissions to manage your Google Product Listings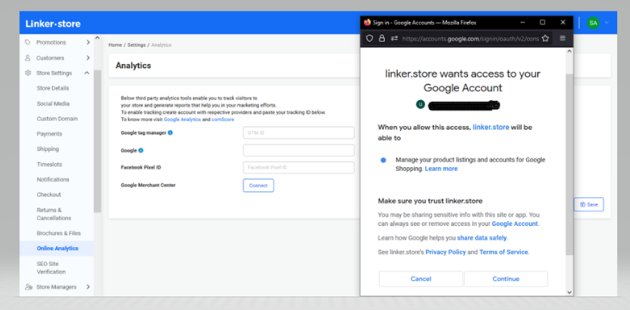 Step 7: Select the Google Merchant ID corresponding to your Online Store feed you want to sync the products to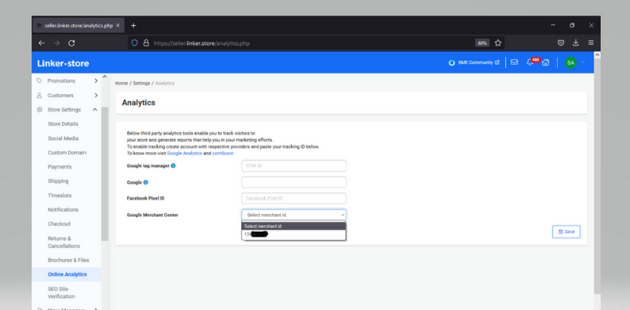 Voila! All your online store products information is synced with Google Merchant Center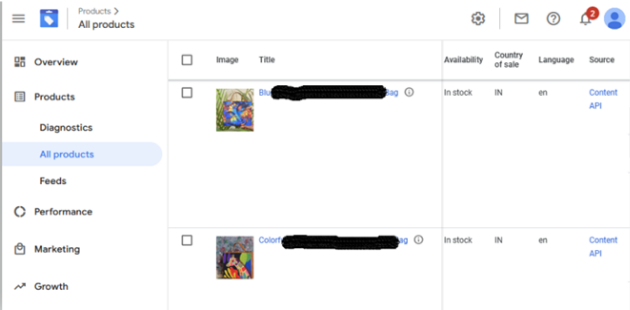 Some vital tips to keep in mind
Products synced to Google Merchant Center using Linker.store's Google channel can appear in relevant Google Shopping tab search listings for free.
To improve the performance of your product listings on the Google Shopping tab, use the following guidance to help you optimise your product information:
Product and store information should be accurate and up to date

High-quality images are uploaded on your products.

Including keywords in Product titles and descriptions that customers use in searches

Add relevant attributes, such as size, to improve product discoverability.
As busy business owners, several Linker.store merchants are often looking to grow their stores without devoting a lot of time to set up, monitor, and adjust marketing campaigns. Using the Google channel is an ideal solution to drive relevant traffic to your website.

Also read: How to start an online fashion business
To explore business opportunities, link with me by clicking on the 'Connect' button on my eBiz Card.
Image source: Freepik
Disclaimer: The views and opinions expressed in this article are those of the author and do not necessarily reflect the views, official policy or position of GlobalLinker