Summary: The McKinsey 7S Framework is one of the most widely used models in business management. This model was developed in the 1980s by McKinsey consultants. The framework analyses a firm's organisational structure by looking at 7 key elements: strategy, structure, systems, shared values, style, staff and skills. Lester Fernandes explains how this framework can be leveraged to evaluate data.
McKinsey's 7S Model1 Framework is invaluable in terms of its insights regarding where the organisation is today and what needs to change for the disruptive tomorrow. At the micro level, the analytics needs to be evaluated and modelled appropriately to ensure that it is ready for its share of disruption in the VUCA (Volatility, Uncertainty, Complexity & Ambiguity) in years to come with data at the centre of all businesses.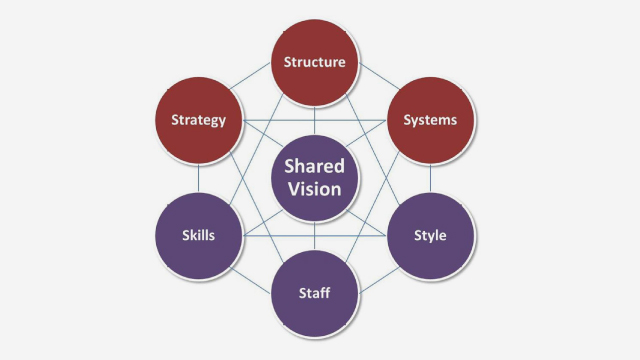 Let's apply this framework by asking the right questions across the 7S's individually and then evaluating the answers applicable to the analytics team(s) within your organisation to help identify the gaps and subsequent follow-up actions:

The Hard S's


1. Strategy
What is our strategy as it relates to analytics within the organisation? What are the long-term and short-term goals and objectives and what is expected from the analytics team to achieve these?


How do we intend to achieve our analytics objectives? Is it related to increasing revenue, improving operating margins or venturing into new industry revenue, to name a few relevant objectives.


How do we deal with competitive pressure and changes in customer demands by effectively leveraging analytics? Could it be done by improving customer experience and adapting the personalisation one – one per customer?


How is the analytics strategy adjusted for environmental issues? Moving to the cloud to make it computing efficient and be available on demand could be a good example
2. Structure
How is the analytics team distributed and governed? Is it centralized, decentralized or implemented as a hybrid model? This answer will primarily drive the hierarchy, alignment and coordination of analytics activities as well as facilitate knowledge sharing


Is the chosen analytics alignment in line with the expected coordination and agility required? Given the active involvement of business required for insightful analytics, this factor becomes an important one


Where are the lines of communication related to analytics? Explicit and implicit? Is senior management from business actively involved in Data Assimilation, Insights discovery and analytics decision making?


3. Systems
What are the data warehouse systems that store the relevant organisation data like Customer, Financial, HR and Supply Chain to name a few? Where will the data be aggregated in a single system prior to Statistical Analysis?


Where are the analytical decision controls and how are they communicated, monitored and evaluated to ensure that the decisions are relevant and reach only the intended stakeholders in a timely manner?


What internal rules and processes does the analytics team use to keep the data and related insights to meaningful outcomes and business decisions on track? How is the data validated for meaningful analytics?


The Soft S's


4. Shared Values
What are the core values of the analytics team? Since people are integral to the creativity and understanding between business, technical and data scientist teams, are they bound by the same core value?


What is the analytics team culture and strength of their values? Are they guided by a relentless pursuit of insights to be derived from data that are addressing relevant business problems?


What are the fundamental values that the analytics team was built on? Are they in alignment with the values that are of relevance today? Do they foster a sense of ownership and meaningful insights that aid the business for iterative development?

5. Skills
What are the strongest analytics skills represented within the team? Is it a good mix of business understanding, Data Science and Technology Acumen to deliver value? Are there any skills gaps?


What is the analytics team known for doing well in response to business problems? How quickly are the results obtained? Creativity of analytics solutions and adaptation to the problems at hand are required essential skills


How are analytics skills monitored, assessed and refreshed over time? Are they in accordance with the rapid changes happening across open and closed systems along with technological relevance across business problems?


6. Style
How participative is the analytics management/leadership style? How effective is the leadership at driving or pushing back as required? Analytics teams in particular require the relevant business understanding with the data and effective leadership is key to bringing it all together


Do analytics team members tend to be competitive or cooperative? A balanced mix of both is critical to ensure that assumptions and insights can be challenged, with business outcomes delivered at the end as the ultimate goal.


Are the business teams, analytical teams and technical teams functioning as a united team sharing information and insights across group boundaries as required or are they just nominal groups withholding information?


7. Staff
What positions or specialisations are represented within the analytics team? The Chief Data Officer and Chief Analytics Officer with their unique competencies needs to be adequately represented for relevant business insights
Are there gaps in required analytics competencies? What positions need to be filled and how will these skills be staffed to fluctuating requirements?


In conclusion, McKinsey's 7S framework can be effectively used to evaluate the current analytics team and help identify the future state requirements with the relevant gaps and what can be actively done to meet these. The learnings should be used in conjunction with the Analytics Maturity Assessment Framework that will ultimately lead towards the holy grail of analytics excellence.


References:
1. McKinsey's 7S Framework
2. HBR – What VUCA really means for you?
3. BUDSTA Framework


To explore business opportunities, link with me by clicking on the 'Invite' button on my eBiz Card.
Disclaimer: The views and opinions expressed in this article are those of the author and do not necessarily reflect the views, official policy or position of GlobalLinker.
Posted by
Lester Sebastiao Fernandes
I am looking to connect with other business owners who need to extract analytical insights from current data and take informed decisions. We make your Data Insights journey easier...