eCommerce has steadily been capturing an increasing share of the overall retail pie. In 2020, 21.3% of all retail sales were via eCommerce. While this is good news for online sellers, the downside is that there is more competition. For individual eCommerce businesses, digital marketing is an important medium to attract more customers.
Digital Marketing refers to all the marketing activities that are carried through electronic devices or the internet and this includes search engine optimisation, harnessing the power of Google, social media marketing, creating buyer journeys, e-mail marketing, digital ads and more.
Here are 6 digital marketing tips to increase your online sales.
1. Enable Instagram shopping feature
500 million people use Instagram daily, and 50% of them follow at least one business —not promoting your business to such a large audience is just a huge loss. Instagram's shop feature allows you to integrate your product catalogue with your Instagram profile, enabling you to endorse your products directly to Instagram users via posts/stories in the 'Explore' tab, and it also adds a 'Shop' button on your Instagram page.
2. Amp up your e-mail campaigns
One of the most critical aspects of your sales funnel and digital marketing strategy is e-mail campaigns. E-mailers engage and inform your target audience in a clear, direct, and cost-effective manner. To get started with e-mail marketing, actively promote your blog, newsletter and any other e-mail capture efforts to get as many subscribers as you can. Learn vital email marketing tips from this article on 5 must have e-mails for your online store.
3. Reach interested shoppers with Google Ads
Google Shopping campaigns are a must for eCommerce businesses looking to make a mark. With such a campaign, you can advertise your products at the top of the Google search results to the exact audience that is looking to buy the kind of products you sell. Your ads can include product images, price, offers, and other information that makes it easy for customers to select the product.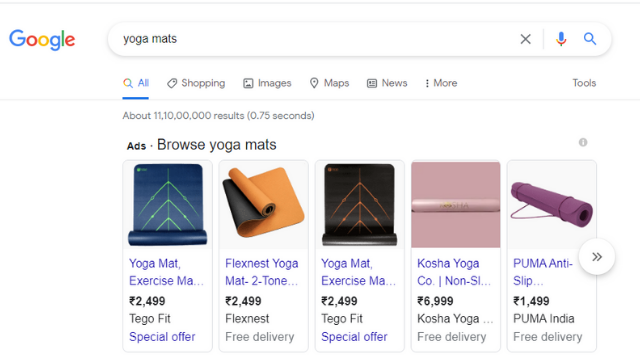 To learn more, you can check out the guide to Google Shopping Campaigns.


4. Engage store visitors with live chat
Another high-impact way to engage with site visitors and shoppers is the live chat feature. There are several live chat tools that allow you target browsers on certain pages, after they've been on your site for a certain length of time, or even after they've arrived on your site. Live chat enables you to have direct conversations with your customers, so you can answer customer queries right while they're planning to make a purchase.
Read this article on setting up Facebook live chat on your Linker Store

5. Add videos
While not all products require videos, if you've got something special to showcase, there is nothing better than to show it in action. 81% of consumers say video provides the much needed confidence to opt for the product while making purchases. These videos can be leveraged on your eCommerce site and also on your social media pages.


6. Instill trust with customer reviews
Ask your customers to share reviews about your products using the story/post feature on Instagram or Facebook. This creates a sense of trust amongst the audience and it is a great way to increase your online sales. These reviews help you engage with followers of that customer, and you can also repost them on your account to engage your followers too. Reviews act as fresh content and help drive traffic from social media to your eCommerce website. In simple words, customer reviews act as your word-of-mouth marketing.
Read this article on the power of testimonials to boost your eCommerce sales.
To get your ecommerce marketing strategy off the ground, we conducted a special webinar on do-it-yourself digital marketing tips for your ecommerce store. Watch the webinar recording here.

Image source: shutterstock.com
Posted by
GlobalLinker Staff
We are a team of experienced industry professionals committed to sharing our knowledge and skills with small & medium enterprises.